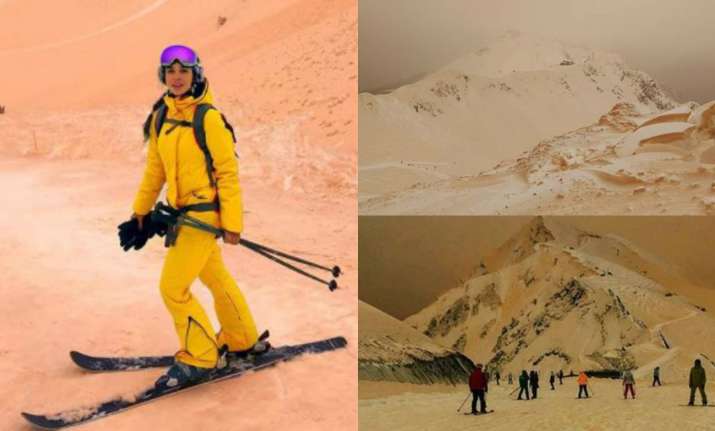 Space agencies across the world have already launched their Mars Mission with an aim to take humans to the red planet. But, what if we tell you that a part of the earth has turned into Mars-like landscapes. People in eastern Europe seems to be baffled by orange-tinted snow and tangerine sky.
Pictures from the mountainous regions of Ukraine, Russia, Bulgaria and Romania give a glimpse of Mars. Meteorologists say that this phenomenon has occurred due to dust from a sandstorm in the Sahara desert. A mix of sand, dust and pollen particles swept across from storms in northern Africa. According to met department, the phenomenon occurs roughly every five years.
Не удивляйтесь, это не пески, это снег в Сочи. pic.twitter.com/vTUuRPCeQY

— Valentyna Vashchenko (@ValentynaVashc2) March 23, 2018
Steven Keates, a weather forecaster at the UK's Met Office, told the Independent: "As the sand gets lifted to the upper levels of the atmosphere, it gets distributed elsewhere.Looking at satellite imagery from NASA, it shows a lot of sand and dust in the atmosphere drifting across the Mediterranean."
Skiers and snowboarders from resorts near the city of Sochi in Russia shared the orange scenes via photographs on social media. This is not the first time eastern Europe has experienced a strange tint on snow. A similar incident occurred in 2007 in southern Siberia when "oily" orange snow fell across its three regions.
For all latest news, keep checking our Facebook page