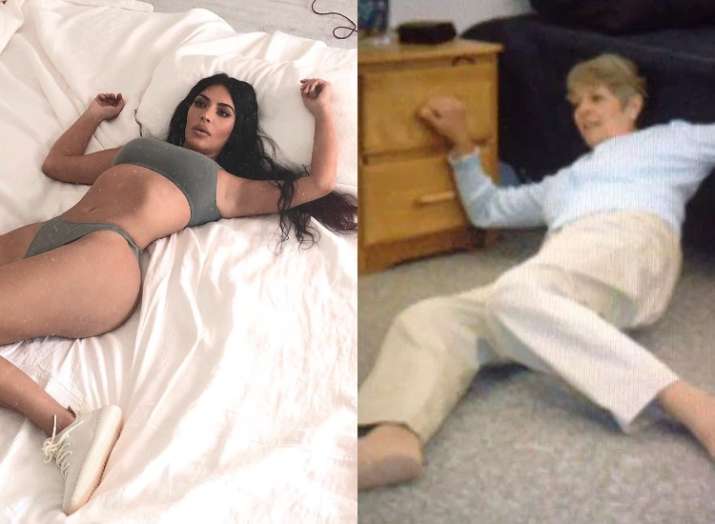 Kim Kardashian has always been a hot topic amongst the netizens. From his different looks to controversial statements, everything makes headlines. This time again the American reality television personality is all over the internet but we can't say for a right reason. Recently, Kim had a photoshoot done for husband Kanye West's clothing brand and her awkward pose made Twitterati burst out laughing.
Taking to Twitter, Kim Kardashian West shared a picture from the photo shoot and wrote, "Like butter. #Butter350's #Yeezy". The picture shows Kardashian lying on a bed modelling with a pair of Yeezy sneakers. However, people seemed to notice not the shoes, but her pose and her blank expression. In no time, Tweeple came up with the most creative memes and jokes on her awkward pose and it became difficult to control our laughter after reading them.
Like butter. #Butter350's #Yeezy pic.twitter.com/xOf0CU0hTC

— Kim Kardashian West (@KimKardashian) August 6, 2018
Here are our best picks from all the memes running on the internet-
😂😂😂😂😂😂 pic.twitter.com/8jBm3MTB8v

— Dadaland (X) 🧷 (@dadaland) August 7, 2018
Watch this .... I'm dying 😂😂😂😂 pic.twitter.com/jYrvAM5n2X

— YUGEN/幽玄❤🍑🔥 (@Some_Samira) August 7, 2018
August 8, 2018
I'm trying but all these other memes are hilarious 😂😂😭 pic.twitter.com/J6esgwgIXO

— Joshua Kyle Jonathan (@JKJdot2) August 7, 2018
— Courtney (@kangaroocourtz) August 7, 2018
mood pic.twitter.com/XH6RK77xqc

— goPuff (@gopuff) August 7, 2018
Omg this looks like when Peter rolled on Lois while they were sleeping pic.twitter.com/MEMC8YelsX

— eddie (@eddiebruh12) August 7, 2018
August 8, 2018
August 6, 2018
#LikeButter #Yeezy #Kardashian pic.twitter.com/E8U2LvN6C1

— VisuallyBetter (@Isuckatpicking) August 7, 2018
The tweet has already garnered over five thousand retweets and has crossed 60 thousand likes already. Kim Kardashian became a popular name after her controversial nude pictures that appeared in the Paper magazine in 2016.