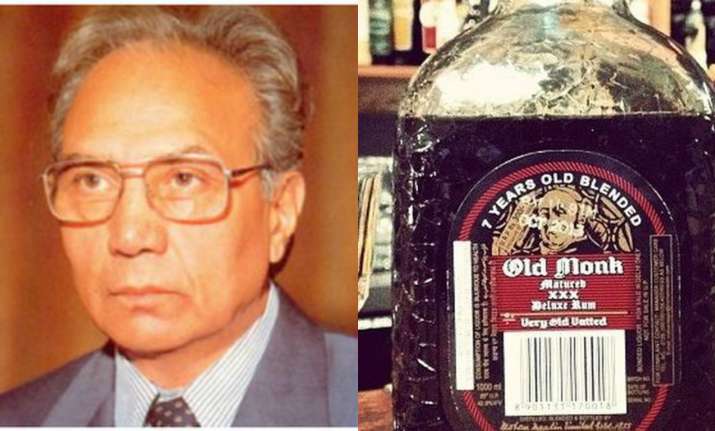 Retired Brigadier Kapil Mohan, former MD of Mohan Meakin Ltd and the man behind iconic liquor Old Monk breathed his last on January 6 at the age of 88.
The recipient of Padma Shri in 2010, Mohan was not well since last couple of years. Reports say that he died of a cardiac arrest in Ghaziabad's Mohan Nagar area. Launched on December 19, 1954, Old Monk was popular for its distinct vanilla flavour. It remained the largest selling dark rum in the world for many years.
Kapil Mohan took the charge of erstwhile Dyer Meakin Breweries and ventured into a number of business areas. From malt houses to breakfast products, Mohan Meakin diversified itself. 
Soon after the news of his death broke, #OldMonk started trending on Twitter. Many of his admirers took to the micro-blogging site to pay tribute and express condolence to his family. He is survived by wife Pushpa Mohan. ''Never been a Rum drinker but I know, to people who drink it, Old Monk is not a Rum. It is an institution. Or an emotion. R.I.P Kapil Mohan. You spread joy like few others could - across generations,'' tweeted one user.
''Respect to the Late Brig Kapil Mohan, a proud fellow National Service Volunteer-Reservist of the Territorial Army (TA), and the creator of Old Monk Rum,'' tweeted another.
Never been a Rum drinker but I know, to people who drink it, Old Monk is not a Rum. It is an institution. Or an emotion. R.I.P Kapil Mohan. You spread joy like few others could - across generations. ✨

— Indrani Ray (@IndraniRay) January 9, 2018
Respect to the the Late Brig Kapil Mohan, a proud fellow National Service Volunteer-Reservist of the Territorial Army (TA), and the creator of Old Monk Rum.

Salute.https://t.co/BkDtZnAey6

— Navdeep Singh (@SinghNavdeep) January 9, 2018
A man is known for the work he does for the society so will be Dr. Kapil Mohan. #RIP #oldmonk #very true pic.twitter.com/sA3mpTkyi5

— Chetan Pawar 😀 (@babahasmukh) January 8, 2018
Kapil Mohan, man behind the success of Old Monk, passes away at 88 https://t.co/bjgZH4898E @Aadimanaw :( Another legend which gave an outstanding brand with we Indians can boast about outside India. #oldmonk #indianrum pic.twitter.com/iuSV1nZVsE

— Abhinav Kumar (@singhabhinav) January 8, 2018
Can't belive... The man who's Brand ' Old Monk ' i drank as a teenager with my College folks is no More ... will miss u! But the Monk will be alive in Hearts of all #OldMonk #KapilMohan pic.twitter.com/XzdtcnPwMi

— Poonam Pandey (@iPoonampandey) January 8, 2018
It was love at fist taste and remained the same forever.
It was a constant companion during college life.
While in job, it always rescued us during end of the months.
It changed the way we see Coke.
Thank you for giving us #OldMonk
Farewell Mr. #KapilMohan #RIP #TeamOldMonk

— Professor (@BeerOholic) January 9, 2018
Keep watching this space for all updates