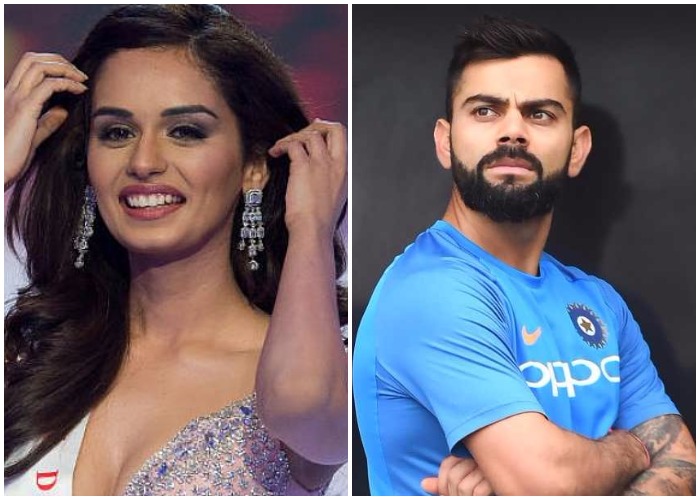 Manushi Chillar brought accolades to the country when she was crowned with the coveted Miss World 2017 on November 18. Virat Kohli also went on to make India proud when he scored most number of centuries as a captain in calendar year. What happens when these two powerful youth meets? They did meet at an event in Delhi and it was one hell of an explosive meeting, we must say. Here are the pictures.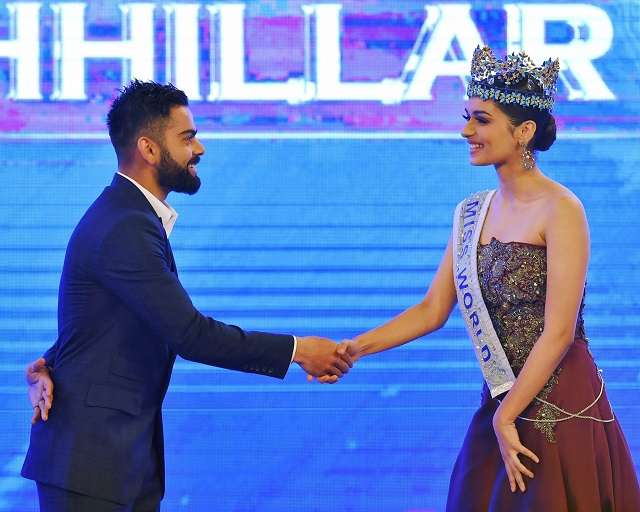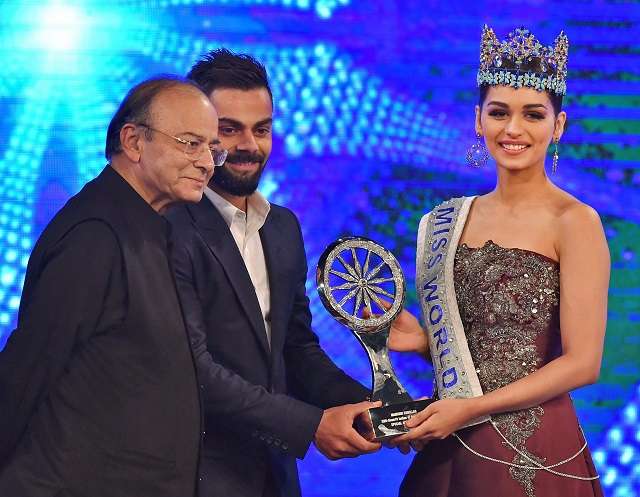 Manushi Chillar and Virat Kohli on Thursday, met at CNN-News 18 'Indian of the Year' Award Show in Delhi. The Indian skipper was there to present Manushi Chillar with the special award. During the ceremony, Manushi asked him a question which is breaking the internet now.
She asked, "Today, you're the world's best batsman. Everyone gets something to learn from you. You're an inspiration for everyone. The youth of the country finds their icon in you. What advice would you like to give to the cricket aspirants in the country?"
Answering Manushi, Virat said, "First of all its important for you to understand that whatever you're doing on the pitch, you're putting your heart into it. People will get to know when you're just pretending to be in it and they will not connect with you. I never try to be someone else. I do what I want to do. People often ask me how I was and how I conduct myself now but I never faced any kind of problem. But when I tried to bring a change in myself, it eventually happened. Everyone will reach a point in their life when they have to start acting mature."
"The moment I started to think that I need to change, is the only time I changed. Everyone has to go through a mutual process to be where they get to in life to become more mature. What's very important to understand is one should never lose their own identity, character and personality because if you try to be someone else you can never succeed, and you can never inspire others.
"The one thing that I believe in is that there's something much stronger that's making us do what we do. We ourselves don't have the ability to go out there, score runs and take wickets all the time. We must believe that everyone has a plan and that plan has been executed for them at the time they are in, and all they can do is work hard, no one can change the plan, what we can do is work hard and be honest with ourselves," Kohli added.
Kohli, with his stellar performance at the pitch has earned massive respect for himself in the field of cricket. But he still identifies himself as a 'typical Delhi boy' who always remembers where he came from.
He said, "I am a typical Delhi boy at heart. Wherever I might be in life, I always remember where I come from and what I have gone through to be where I am. That never goes away from me."