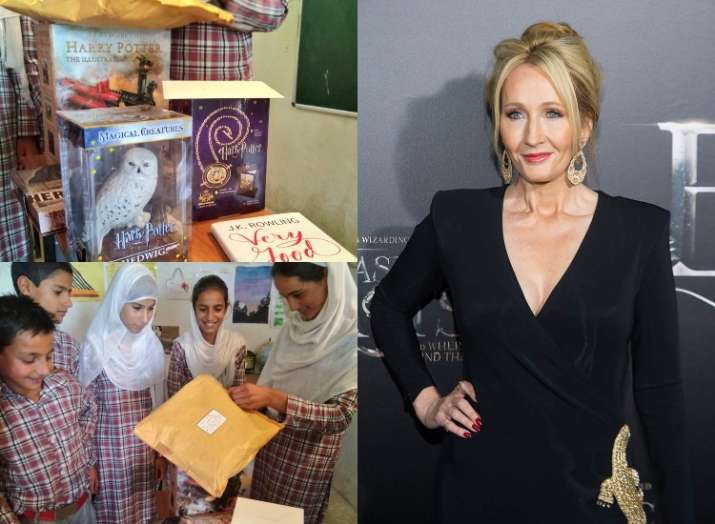 Two months after a little Kashmiri girl wrote an essay about her favorite author, JK Rowling, the lady surprised her with personalized gifts and Harry Potter goodies. In April, this year, a 12-year-old Kashmiri girl, Kulsum, wrote in her essay that she is highly inspired by the life of JK Rowling because even after facing many difficulties, she never gave up. The girl also penned down her desire to meet the author when she grows up and wishes her a long life.
The moment his essay reached the famous author after it was tweeted by a Twitter user Sabbah Haji Baji, JK Rowling replied to it and said, "Please, can you send me Kulsum's full name by DM? I'd love to send her something."
Please can you send me Kulsum's full name by DM? I'd love to send her something.

— J.K. Rowling (@jk_rowling) April 26, 2018
Now after two months, the little girl has finally received her bundle of joy. While everyone forgot about the tweet, JK Rowling honoured her words and sent amazing gifts to the Himalayas for Kulsum and her classmates. Delighted and touched by the act, the same teacher who tweeted Kulsum's essay, took to Twitter to share the news. She wrote, "HELLO, WORLD. SO @jk_rowling SENT A HUGE GIFT BOX FOR KULSUM AND FRIENDS. HANDWRITTEN NOTE, INSCRIBED BOOK, AND THIS IS ALMOST TOO MUCH TO HANDLE. We are so thrilled and squeaky, I cannot even. Thank you so much, Ms Rowling. Thread below. #HajiPublicSchool"
Here's Kulsum opening her gifts from JKR. #HajiPublicSchool pic.twitter.com/FCGmAvBT76

— Sabbah Haji Baji (@imsabbah) June 23, 2018
The teacher also shared pictures of the children opening the presents and how they got teary-eyed. Their class teacher also wrote that in all the excitement their practice exam got canceled. "We were supposed to have our practice exam for Civics after school. No such luck. Everyone was way too excited."
"With love, J K Rowling." Very Good Lives, with a personal note for Kulsum from JKR. #hajipublicschool pic.twitter.com/HYTQgYEhSf

— Sabbah Haji Baji (@imsabbah) June 26, 2018
The author too replied to the kid's reaction and expressed relief that they received it.
I'm so happy it got there! I was getting worried! Xxx

— J.K. Rowling (@jk_rowling) June 23, 2018
Well, such a good deed never fails to attract praises. Twitterati went all out to applaud the author for her heart-warming act. Here are few of the tweets-
Nothing more satisfying than seeing happy kids in the morning.

— Raghvendra Sharma (@raghven_ace) June 24, 2018
Aaaaaaa this is just... I can't even ♥️♥️♥️♥️😭😭😭😭 #TeamRowling #PotterHeadForever

— Hema Ramaprasad (@writeclcktravel) June 25, 2018
Heart touching gesture

— Suunil Sharrma (@suunil31) June 24, 2018
Wow what a sight what a moment it should have been. Excellent gesture from JKR.

— Meh (@vvkarthik) June 24, 2018
This makes my heart all warm and fuzzy inside pic.twitter.com/fmwUw3mIm2

— Bourne Stupidity (@BourneStupidity) June 23, 2018
So so awesome @jk_rowling

— Kavita Chowdhury (@kavitachowdhury) June 24, 2018
Super! Feel elated from a thousand miles away. Respect for the thoughtfulness of JKR and great work of your School. #HajiPublicSchool @jk_rowling Kulsum and the class have now found a 'star' - let her be their North Star, lighting up their way!

— Debiprasad Mishra (@DebiprasaMishra) June 24, 2018
My jealousy has just been shattered by the immense joy this has brought to me today♥️

— Dr Shruti Singh (@TheGoodDentista) June 24, 2018
In case you are wondering how did this all start, Read the full story about little Kulsum and her favourite author JK Rowling.