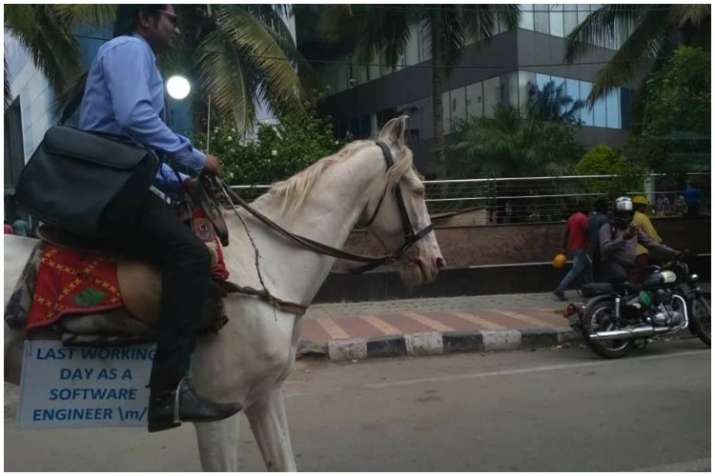 Traffic is a regular problem in any city these days. And the summer heat just makes it worse. But who could think of riding a horse on the streets to beat this problem? Turns out a techie from Bengaluru found it the best way to escape traffic. Roopesh Kumar, a software engineer based in Bangalore, chucked all norms and rules of his workplace and went there riding a horse. Photos of this fearless maestro upon a white horse are out on social media and ruling over the internet.
But if Roopesh is to be believed, he didn't intend to gain all the publicity or going viral at all. He says he only did so avowing the heavy traffic of Bengaluru. His horse had a sign that read, 'last working day as a software engineer'.
"I did not know this would go this viral. This was my last working day and this was my way of taking my frustration out on traffic jams. There are traffic jams for which sometimes we have to wait as long as 30-40 minutes on the same spot. There will be multiple solutions and we should use the huge IT resources we have. If we can solve one of the world's most complex problems, why can't we solve this problem?" Verma was quoted as saying by The News Minute.
Roopesh was raised in Pilani, Rajasthan and completed his degree from Manipal after which he came to work as a software engineer in a Bengaluru-based IT company. He had come to Bengaluru about eight years ago.
"We study in top colleges in India and we work in top companies in the world but we are never the owners, all the owners are from abroad. You see any big company, all the CEO, MDs will be Indians but owners will be from outside— this is painful," he was quoted as saying in a report by The News Minute. He chooses to believe that we can replace Microsoft and Google with Indian IT ventures like Flipkart replaced Amazon.
He also talked about his chances of joining the Indian Army, as per the report by The News Minute. "I am a great fan of the Indian Army and want to join, given a chance at this moment," he was quoted as saying in the report.