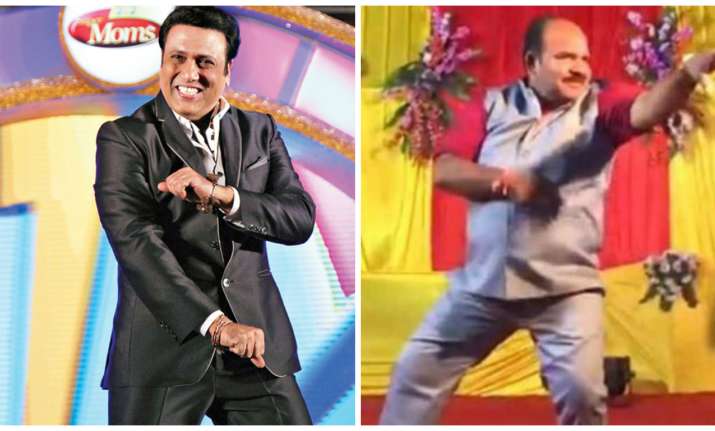 If you haven't come across the viral video of Dancing Uncle or Govinda Uncle, then you are probably living under the rocks. If you are an avid social media user, then you must have seen a video of a middle-aged man shaking his leg on Govinda's song Aap Ke Aa Jane Se. The man is performing at a wedding function along with his wife who is too shy to dance but that doesn't deter the man from dancing his heart out. He shows off his moves like there is no tomorrow. He dances on the female part of the song as well. The video has become netizen's hot favourite and Sanjeev Shrivastava, the man in the viral video is now an internet sensation.
Many Bollywood celebrities like Anushka Sharma, Arjun Kapoor, Divya Dutta applauded the energy of Shrivastava. Madhya Pradesh CM Shivraj Singh Chouhan also took to Twitter to applaud his devil-may-care attitude. Shrivastava, a professor in the electronics department at the Bhabha Engineering Research Institute in Bhopal has already mentioned that Govinda is his source of inspiration. Now, his inspiration has reacted on his video and he seems to be quite impressed.
Yes, Bollywood actor Govinda has seen the video and even shown it to his wife. In an interview with India Today, the actor revealed that he liked it and said that Shrivastava has copied him quite well
He also had a message for Shrivastava. ''I really liked the way you were enjoying while dancing and I would request you to keep enjoying yourself. I also liked the way your wife danced with you on stage,'' India Today quoted Govinda.
Shrivastava has been dancing since 1982 and has won many competitions. His mother was a classical dancer. Watch the viral video here:
I can see pure happiness on Mr #sanjeevshrivastva s face while he dances... this pure joy is what we actors & performers crave when we let loose in front of the camera, the ability to make others wanna dance just by looking at u is an acquired skill... keep the moves flowing sir. pic.twitter.com/0L3rBGOC2J

— Arjun Kapoor (@arjunk26) June 1, 2018
For all latest news, keep checking our Facebook page