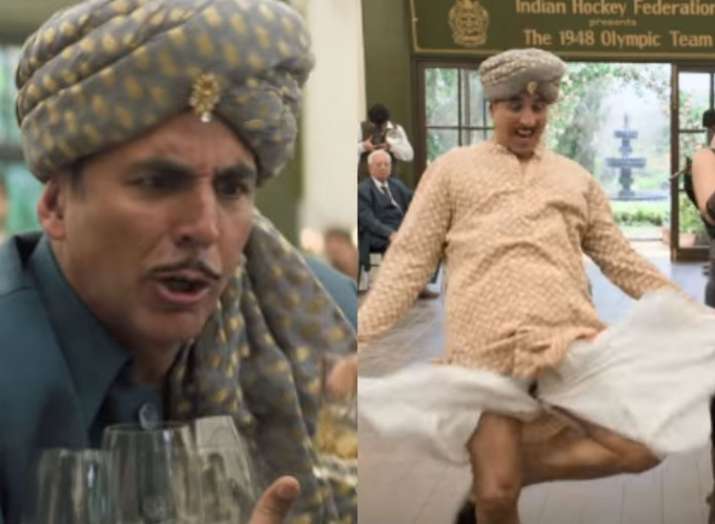 While netizens expected Akshay Kumar's upcoming film Gold to be more on the serious side, the latest song Chad Gayi Hai has left everyone high with its feet tapping beats and the actor's hilarious dhoti dance. Akshay Kumar never fails to amaze the audience with his other-worldly charm and dedication towards his work. This time as well, he has managed to woo us with his crazy dance moves.
Going by the song, it looks like it appears that Tapan Das' foes attempted to malign his image by intoxicating him. Akshay Kumar's dancing in a formal party definitely raised many eyebrows. But for the audience, the drunken Akshay Kumar dance was a treat to the eyes. The moment Chad Gayi Hai released on the social media, fans are hooked to it. The song already has over 1 Lakh views and several comments. Akshay shared the song on his Twitter saying, "Let your feet dance kyunki #ChadGayiHai is out! Watch my moves and then send me yours". Well, he did receive many reactions from the Twitterati. 
Let your feet dance kyunki #ChadGayiHai is out!
Watch my moves and then send me yours: https://t.co/JLrenbIGza@excelmovies @VishalDadlani @SachinJigarLive @ZeeMusicCompany @kagtireema @FarOutAkhtar @ritesh_sid @Roymouni @kapoorkkunal @TheAmitSadh @ItsVineetSingh @SunnyK0

— Akshay Kumar (@akshaykumar) July 12, 2018
Here is what they are saying about the song-
#ChadGayiHai is damn hilarious!!..I smiled alot while watching whole song..@akshaykumar ur energy is terrific👏..& your moves are eye-catching 😂..expecting this one to be in party song from nowadays😉..maza aa gaya @VishalDadlani @SachinJigarLive ->https://t.co/fGyPf8bchn

— Harsh darshan mehta (@hd4157) July 12, 2018
Awesome Song Akki

— Alia Bhatt (@AliaaBhattt_) July 12, 2018
Loved this song sir..u rocked..full of energy nd josh.👌#ChadGayiHai

— Appyᴳᴼᴸᴰ🏅 (@KhiladisArpita) July 12, 2018
New Party ANTHEM Arrived #ChadGayiHai 🍻🍺🍸🍾
Akshay kumar Energy level 🔥🔥 pic.twitter.com/6ln1mZXgGQ

— ABHINAY SINGH🏅🇮🇳 (@abhisatna) July 12, 2018
Gaana bohut acha laga...

— Pramod Kumar Dash (@PramodK62261346) July 12, 2018
#chadgayihai another entertaining song after Padman title track

— Nora fatehi fanclub (@jacksparrow711) July 11, 2018
#ChadGayiHai these days it is getting hard for indian musicians to produce good music but this one is pretty good and considering today's standards it is excellent! https://t.co/63yCTCDoxC

— AK :) (@5StarKhiladi) July 12, 2018
Suno ??
Watching #ChadGayiHai
Myyy typoss iiiis ggooinnnnghh onNNN aaaauttoooommmmattttiiiiicçCalllllyyyyyyy 🍻🍺🍾

— Arpit Mishra❤ᴳᴼᴸᴰ (@ItsArpit_Akshay) July 12, 2018
Mera hosh hua gubbara,Hum naache taa ra ra;Koi de do humko Sahaara,ke Chad gyi hai,humko chad gyi hai...!!#ChadGayiHai

— HBK🎸 (@bleedblue_16) July 12, 2018
https://t.co/TJFxZ4kScU #GOLD #ChadGayiHai Dassu awsm song @akshaykumar song ka craze chad gya hai😍😍

— Akshay_kumar THE BOSS (@Souravkirar1) July 12, 2018
Hahaha watta song @akshaykumar
Sir 😅😂
I just loved ur expressions 😆😂👏
Just loved it 😘#ChadGayiHaihttps://t.co/kfrZBI55Ln

— Deep Valesha (@deepvalesha) July 12, 2018
Directed by Reema Kagti, Gold tells the story of Independent India's first Olympic gold medal win as a free nation. The film also stars Mouni Roy, Vineet Kumar Singh, Kunal Kapoor, Amit Sadh, Sunny Kaushal and Nikita Dutta. The film begins in 1936 and traces 12 crucial years in the transformation of India from a British dominion to a free state.