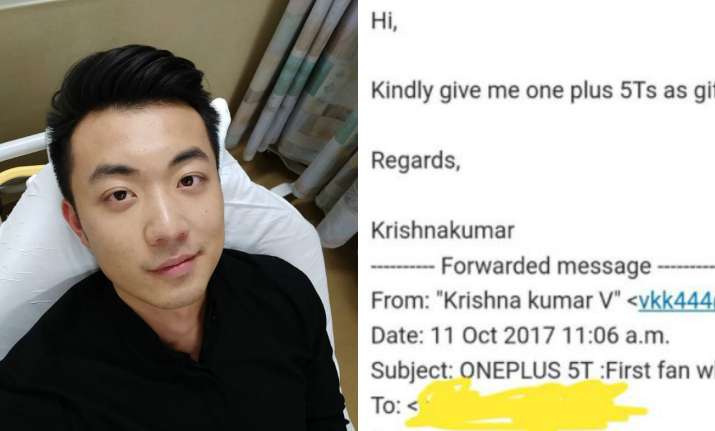 Since its announcement, OnePlus 5T has become dream smartphone for many. The Chinese brand OnePlus launched its latest variant, OnePlus 5T just a month after the launch of OnePlus 5. The smartphone is available in India from November 21 and as fans are gearing up to try the latest model, one forthcoming person tried a shortcut to get his hands on OnePlus 5T.
Co-founder Carl Pei took to Twitter to share a screenshot of an quite weird yet amusing e-mail he got from an user. The man with name, Krishna Kumar V demanded that he should be given 5T as his OnePlus 5 is having reboot problem. He sent a mail on October 11, a month before the launch saying that he is a first one to predict the success of company hence he has the natural right. In the subject, he wrote, ''first fan whole world''. When his mail got ignored, the user tried his luck once again and this time, five days before the launch.
Interestingly, co-founder Pei shared the brazen email with his 1.2 lakh followers and after this the comment section got flooded with much more frank requests. Some even went to slam Indians for sending such foolish mails.
Natural right 🤦‍♂️ pic.twitter.com/0HTuh2zAYu

— Carl Pei (@getpeid) November 18, 2017
If you're immediate granting 5T's, I'll have one too

— Boj (@OliverBoj) November 18, 2017
I'm positive this is not the only message you've received like this

— Eric (@ericlin) November 18, 2017
IMMEDIATELY GRANT ME 5T

— Matthew Sigmond (@matthew28845) November 19, 2017
typical Indian user go have a look at the forums...

— Danni Powell (@DanniPowell71) November 18, 2017
My oneplus one doesn't have boot issues, but can I claim an 'artificial right' since natural right has been claimed already?

— Viswanath G (@viswanathksg) November 19, 2017
LMFAO hahaha 🤣🤣🤣. Well the amount of coverage I have given to OnePlus products over the last few years, I think I have a stronger right @getpeid lol 🤣🤣🤣🤣

— J TheAndroidFreak (@cjunaid3) November 18, 2017