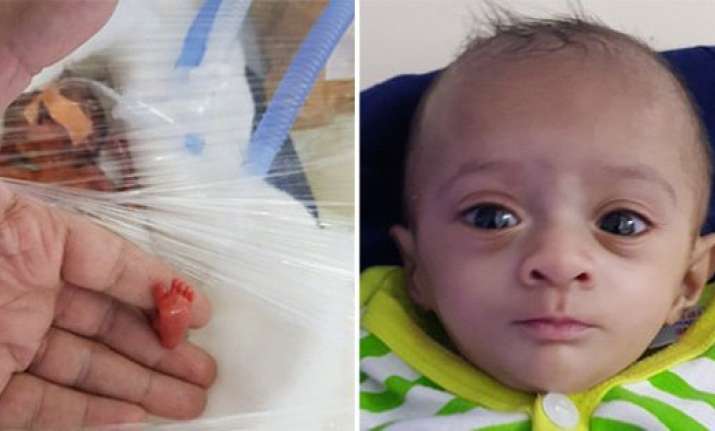 Miracles do happen! This has been just proved by a tiny baby girl in Udaipur, who weighs the same as a chocolate bar. 
Defying the odds of medicine, a premature baby girl named Seeta born weighing 400 grams survived and gained weight, thanks to efforts of doctors at Jivanta Children's Hospital in Udaipur and determination of her parents. 
The girl was recently discharged from the hospital after she gained normalcy which took a six-month-long clinical course.
Seeta is the 'smallest' baby ever to survive not only in India but also in South Asia. Doctors at Jivanta Children's Hospital call her a "miracle baby" who fought against all the odds and won.
The baby girl was delivered through an emergency caesarean section on June 15, 2017, after her mother developed uncontrollable high blood pressure halfway during her pregnancy and ultrasonography revealed foetoplacental insufficiency - restricted blood flow to the foetus. She was born at the 28th week of her mother's pregnancy, whereas the average length of human gestation is 280 days or 40 weeks.
When Seeta was born, she just 400 grams and measured just 8.6 inches, her minuscule feet only slightly bigger than a fingernail. She was not breathing when she was born. But the couple decided to fight to keep her alive.
"When the baby was born, we were uncertain of what could happen," Dr Sunil Janged, chief neonatologist said.
The baby was quickly shifted to Jivanta Neonatal ICU as she required artificial breathing support to regularise her breathing.
Doctors had to put her on advanced respiratory support to help her breathe. Since her guts were immature, she was also administered total parenteral nutrition to ensure she got all the essential nutrients required for her growth.