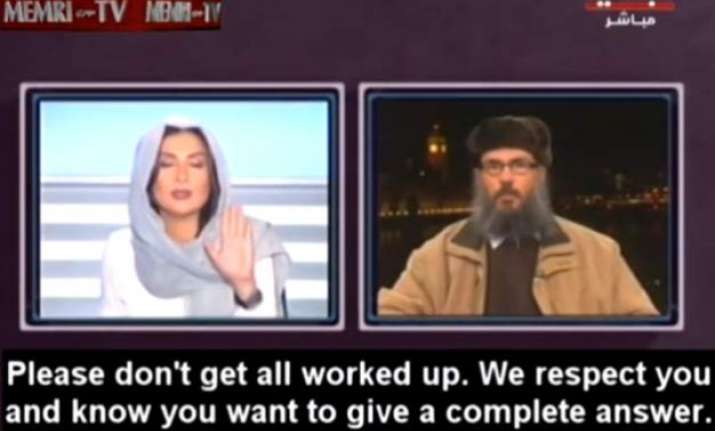 "Either there is mutual respect or the conversation is over." With these words she made it clear who is the boss in the house.
 
Lebanese TV presenter Rima Karaki cut short an interview with Sunni Muslim scholar Hani al-Seba'i after he told her to "shut up" and that it was "beneath" him to be interviewed by her.
Karaki had invited London-based al-Seba'i on Al-Jadeed TV last week to discuss on reports of Christians joining IsIs in the Middle East. Al-Seba'i repeatedly avoided her questions, choosing to speak only about tangential topics, including the history of Christianity and Islam.
Following which the presenter urged Sheik Al-Seba'i to get back to the issues being faced in the present day instead of sailing in the past, as the show had time constraints.
"Please don't get all worked up. We respect you and know you want to give a complete answer. Unfortunately, we have limited time," she requested.
 
Hearing this, Imam got irrtated and started calling her names. "What kind of behavior is this?! "You think you're so high and mighty?!
Karaki says she will give the scholar more time to respond to the question, adding, "Go on, but do not call me names. In this studio, I run the show".
To which Imam responded with: "Shut up so I can talk. It's beneath me to be interviewed by you, you are a woman who…"
The presenter, who kept her cool initially, now fired back as he started calling her names and ultimately silenced al-Seba'i's microphone saying "Either there is mutual respect, or the conversation is over".
Karaki has received huge praise on social media for her handling of the interview and the way she responded to al-Seba'i's taunts.
Watch the full interview: