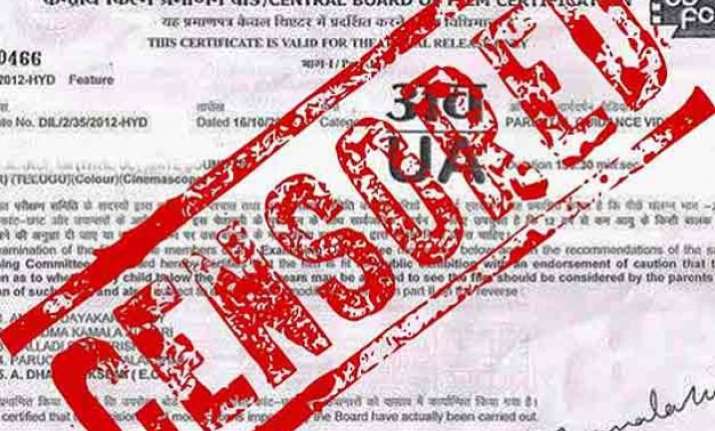 Indian Censor Board rubs off Bombay Velvet wrong way with an 'A' certificate!
Banning seems to be an integral part of India and The Censor Board of Film Certification (CBFC) is the torch-bearer of this favourite pastime of self-appointed cultural custodians of the country.  
With ban on no-smoking super-imposers, cuss words, nudity and violence, what more can you expect from the Indian CBFC? The Board has even gone to the extent of warning movie makers to have 'Mumbai' and not 'Bombay'. The Censor Board has always come up with their own sort of logics to justify their stands.
Going with this flow, there's nothing to worry when CBFC lends a movie with 'A' certificate. But when they dole out a 'U/A' or the rarest of the rare a 'U' certification, now that's news! The recent case in point is Anurag Kashyap's much anticipated Bombay Velvet, the on-screen debut movie of Karan Johar also starring Ranbir Kapoor and Anushka Sharma, that is branded as an A certified flick.
This has not been just the first instance and definitely not the last indeed. But, there had been some instances, where even CBFC ran into trouble for their epic logic:
1. Under the 'table' club!
As per news reports, Censor Board CEO Rakesh Kumar was arrested by CBI for allegedly taking bribe to pass on early release of a film from Chattisgarh, 'Mor Dauki Ke Bihav'.
2. FYI
U, U/A, A.... XA! Yup you read that right. Then CBFC Chairman Vijay Anand (2002) stirred the hornest's nest by allowing X-rated films (soft pornographic) to be released under newly introduced certification, the XA!
3. Ass for Assholes, fokers for Fuckers
The most hilarious logic ever applied to keep the offensive stuff out of films: CBFC allowed Saif Ali Khan, starrer Happy Ending to release with certain modifications like changing 'ass for assholes, fokers for fuckers'.
4. You can be 'nude' but not naked in India!
Nawazuddin Siddiqui starrer Miss Lovely had been critically acclaimed overseas but filmmakers were doubtful of movie's release in India.
At first censor board proposed 157 cuts for the film to be deemed fit for release, but an year later allowed it's release under 'A' certificate. In another case, CBFC allowed Happy Ending to release with words 'ch***ya', and penis but pressed on to delete the word 'naked'.