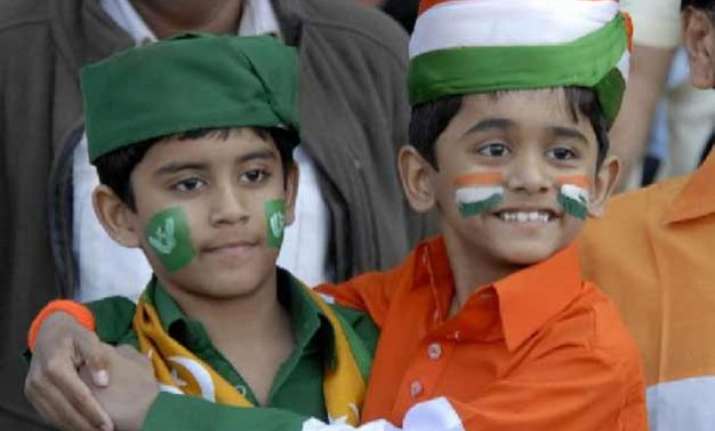 Only a cricket match can tell us apart, or else for the world we are just the same!
When an Indian and a Pakistani guy walk into a bar during the crucial India vs Pakistan match, it's like a cakewalk to distinguish them, but on regular days they are just same Asian guys.
Sometimes, even we fail to identify each other - such is our personification. Maybe coz' we grew up on same land (now with borders)!
As they say - "We all smile in the same language."
So when some Indians and Pakistanis crossed each other on Quora, they were astound to find they went through some similar experiences when in abroad.
(Main Image courtesy: ProKerala.com)
Read a few here...
1. Rishabh Sardana, Musician, Environmental Explorer wrote:
She thought I was from Pakistan and I thought she was from India (We both were mistaken)!
I went to an Indian Restaurant in California, US. After placing my order, I asked for raw onions as salad along with the main course (a typical asian habit).
Conversation:
Lady at the Counter: "Aap Lahore se hain?" (Are you from Lahore?)
Me: "Nahi ji, Chandigarh se hu. Aap Kahan se hain?" (No, I'm from Chandigarh. Where are you from?)
Lady (With a smile): "Hum to Peshawar se hain. Pr ek hi baat hai beta. Ghar ki yaad aa jaati hai jab apni zubaan me baat krne ko milta hai kisi se" (I'm from Peshawar. But it's all the same. And it feels like home to talk to someone in your native language)
We had a good talk. I enjoyed my meal and the lady was extra cautious to make sure that I had a good time. It actually felt like I'd met someone from home.
There isn't much difference between Indians and Pakistanis. It's just the political boundaries that separate the two nations.
2. Dikshant Sharma, Happy & Positive explains of this one time experience which is worth sharing:
In 2013, I was traveling to Paris from Amsterdam along with 2 other Indian friends. We had to make a stoppage at Liege because of a probable landslide situation. Imagine the situation - Late-night, a deserted European railway station & 3 Indian guys.
Lat night when my friends were fast asleep, I was roaming around in the station trying to be awake, I happened to see a guy sitting in the corner and counting the money in his wallet. Seeing me made him really uncomfortable maybe because of the situation mentioned above.
I continued to walk in the same direction and suddenly I heard a voice from behind,"Paji, kithon tusi?" (Brother, where are you from?).
I was dumb-struck!
I immediately responded,"Paji, mai punjab ton, te tusi?" (Brother, I am from Punjab, where are you from?) and he replied by saying"Ohh ballee!! Paji, mai v Punjab ton hi han"(Oh wow! I am also from Punjab). We shook hands, gave each other small friendly hug and suddenly an awesome discussion started.
Only to realise a bit later that he was from the Pakistan part of Punjab and as I was from the Indian part of Punjab - there was an awkward silence!
After that we laughed for another 5 minutes. lol! As they say,"We all smile in the same language".
 
3. Saurabh Verma, Engineer, Thinker: Believes you don't need God to bring changes in your lives
He shares this experience of once when he was in Mannheim, Germany. Saurabh marched into a local store called 'ASIA BAZAAR' to get some (familiar) eatables:
Upon entering the store I wasn't able to decide what to buy, amongst Dal (Lentils), Roti or Naan (Baked Breads), so I simply started strolling in the market.
Owner (O)- "You definitely do not know how to cook... right??"
Me (M)- "Not really."
O- "buy a Dal, its very easy to cook, I will tell you the recipe."
M- "OK". (He tells me the process in a minute)
O- "Lahore se ho Multan se?". (Are you from Lahore or Multan?)
M- (Hesitatingly)- "Ji, Delhi se". (I am from Delhi, Sir)
O- "Oh, Mujhe laga, koi apne shehar ka mil gaya... chalo kya fark padta hai, paraye shehar me hum log ek dusre k kam nahi ayenge to aur kaun ayega, puttar kuch na mile to batana". (Oh, I thought I am meeting someone from my hometown. Doesn't matter, if we don't help each other in a new city, who else will come. Son, if you cannot find anything just ask me.)
M- Ji Uncle (Sure Sir)
(I come out of the store with a heavy heart and watery eyes)
Inputs: Quora