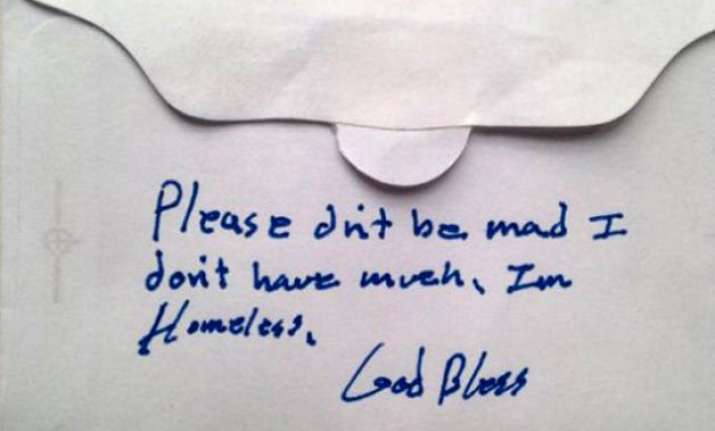 In this brutal world when everyone wants to be the centre of attention regardless of their good or bad deeds, there are people who selflessly serve the mankind.
Let's face it. Be it making donations, helping someone in need or any act of generosity, most people do it coz they can flaunt it. It is more like an 'agenda' they have in mind while helping others so that they can get social recognition.
Here is the irony! This story is about a man whose one kind act made him a true epitome of selflessness.
A North Carolina Church discovered a donation of just 18 cents with a humble note that said, 'Please don't be mad. I don't have much. I'm homeless. God bless'. Despite being a small gesture, it touched everyone's soul.
The church was so moved that they shared the note on their Facebook page, alongside quotes from Jesus's teachings. The homeless donor after reading the post, contacted the church authorities but preferred to remain anonymous.
The church's Pastor Patrick Hamrick told ABC News, 'After the service we have a couple of people called counters who process the offerings and put them in our safe.
The secretary called me over and in the envelope was a dime, a nickel, and three cents. That was the 18 cents. We flipped it over and the note was there. We were very touched by it. For this person, potentially this could have been everything in his pocket.'
This indeed is a heart warming donation that reflects true sign of selflessness.