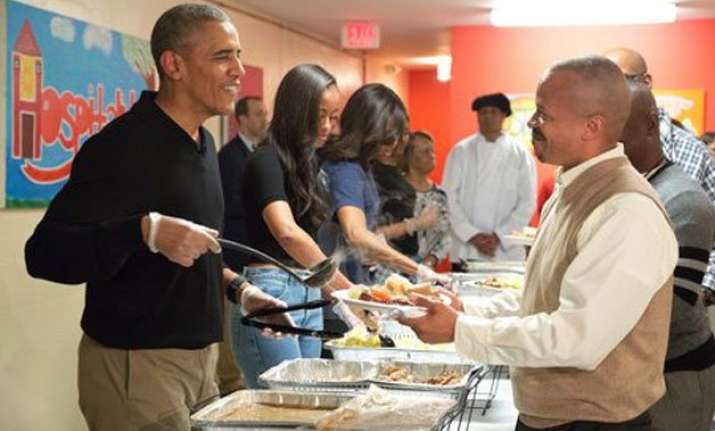 New Delhi: President of United States Barack Obama started the Thanksgiving holiday on Wednesday by donning the avatar of a waiter.
Obama, joined by the whole family, served the Thanksgiving dinner to the local homeless population and veterans at Friendship Place Homeless Center in Washington.
In the video, the President can be seen in a chirpy mood while serving dinner to the homeless and thanking them.
Obama was in charge of serving turkey and gravy to the veterans and other homeless people, while first lady Michelle Obama served up vegetables.
Daughters Sasha and Malia gave out other holiday favourites including mashed potatoes, stuffing and cranberries.
Friendship Place Homeless Center received a $3.1 million dollar grant from the Department of Veterans Affairs in 2015 for veteran homelessness capacity-building.
Earlier in the day, Obama took part in the traditional turkey pardon at the Rose Garden at the White House.
In his speech, the POTUS said, "It's not only of the spirit of giving during this holiday season, but our national obligation to make sure all those who serve and sacrifice for our country have a place to call home".