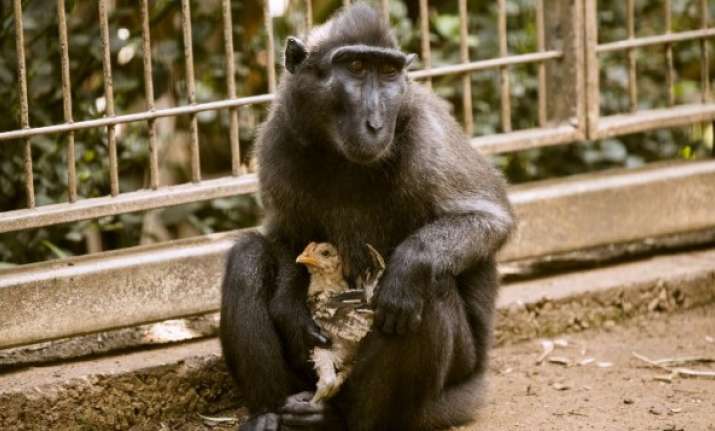 Love is a feeling that has the power to bind even the strangest of persons or say animals. It is an emotion that everyone desires and can go to any extent in search of it. A weird incident happened at Israeli zoo where a lone chicken has found shelter in the lap of a monkey. Niv, an Indonesian black macaque who is in Ramat Gan Safari Park near Tel Aviv has been going quite busy since past couple of weeks because of her new companion which is a domestic chicken.
They are so fond of each other that they spend long hours together with Niv caressing and playing with the bird. Niv treats the chicken like its own baby. Not only she stays close to the bird and also sleeps with her. Zoo authorities who are finding this cute pair inseparable are clueless as from where this chicken appeared. According to the zoo spokesperson, Niv has reached the age of sexual maturity and is finding it difficult to get a partner, hence she is satisfying her maternal instinct by cradling and grooming this chicken. Even the bird feels safe with the macaque and refrains from escaping the bar.
Macaques sometimes kill chicken or play with the bird until it dies, hence, to avoid such situation Niv and her friend have been shifted to another bar away from other monkeys. Where black macaque is one of the critically endangered species as declared by the International Union for the Conservation of Nature, a chicken is the most common bird in the world.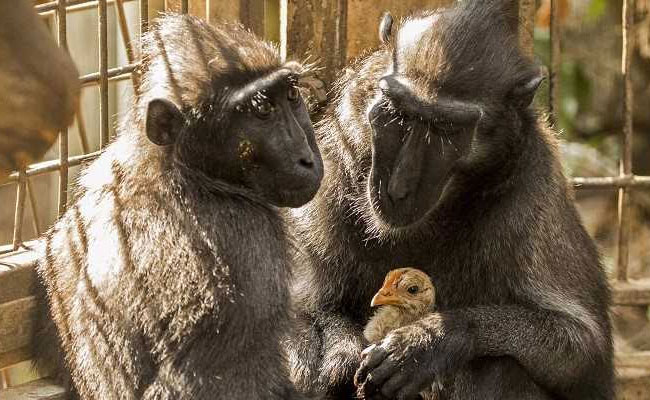 According to officials, few months back Niv attempted to adopt another chicken but that couldn't happen. However, such rare unusual relationships are just treat to heart. Isn't it?