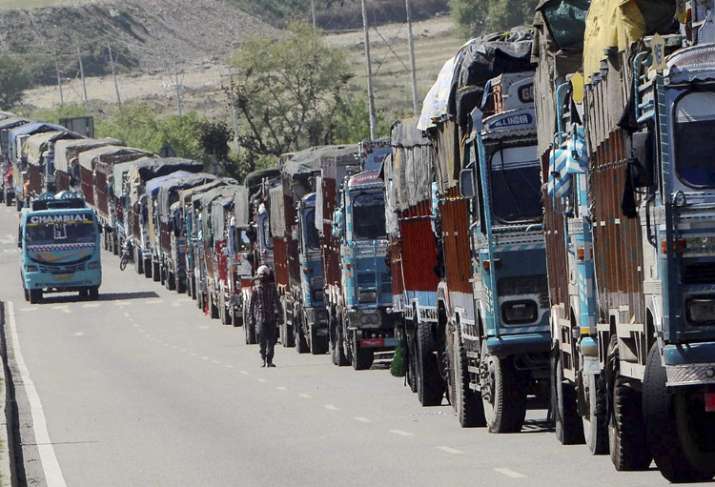 Truck operators on Monday began their two- day nationwide strike to protest against the Goods and Services Tax (GST), diesel price hike and corruption on roads. The strike began 8 am today and will end at 8 pm on October 10.
Truckers body All India Motor Transport Congress (AIMTC) had announced the strike on October 4. The AIMTC claims to represent around 93 lakh truckers and around 50 lakhs bus and tourist operators.
The strike is expected to hit the supply of essential commodities including food items.  
"Transporters have decided to lodge their protest against the callous and indifferent attitude of government officials, GST, diesel hike and corruption on road by observing chakka jam on October 9 and 10," AIMTC President S K Mittal had said last week.
Mittal had said that "contra laws" in the present GST regime has lead to coercive registration and unnecessary compliance by truckers and transporters. 
The sale of used business attracts GST, which leads to double taxation by the government, it added.
AIMTC said exorbitant rise in diesel prices and daily changes in rates have hit the transport sector and the government should revise the prices of diesel on quarterly basis. 
Another transporters body All India Transporters Welfare Association (AITWA) had said it would support the AIMTC's call for strike as the government has failed to give any clarification on GST to transporters. 
"(The strike) call is given by All India Motor Transport Congress and we are supporting them," AITWA President Pradeep Singhal had said. "They (government officials) do not want us to understand the GST, they do not want to explain the GST to us, they do not want to give any clarification ... and they are making it so complicated." 
Singhal said that diesel prices should be made uniform across the country and be brought down to the level of global prices. 
Calcutta Goods Transport Association (CGTA) President Prabhat Kumar Mittal had yesterday that the post GST scenario has critically impaired the transport trade and the body would support the strike called by AIMTC.
He said there was utter confusion, chaos and disruption due to varied policies under GST that are imposed on the road transport sector.
(With agencies)