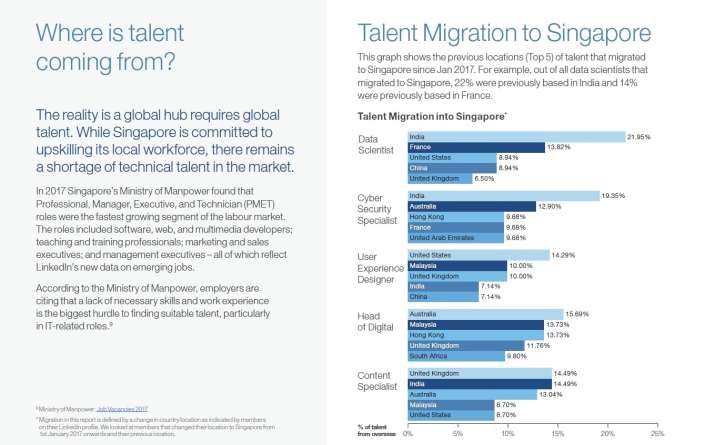 India topped the LinkedIn Talent Solutions' report, titled "Emerging Jobs: Singapore", published earlier in September 2018.
The city-island, Singapore, is about 600 square kilometres and has a population of 5.6 million. With the ageing population and significant decline in birth-rate it requires foreign workers to sustain its economic development and its position as a global financial and innovation hub.
"Talent is very short everywhere in the world- AI talent, software programmers. We let them in because we require a critical mass for the sector to take off, while we continue to train Singaporeans for those jobs." said Ong Ye Kung, Singapore's Education Minister as quoted by ANI.
The LinkedIn report identifies and compares the emerging jobs and skills required for each job. It's analysis is based on the data collected from year 2013 to 2017 from the accounts of 2-million Singapore-based LinkedIn users.
The report said that the top five emerging jobs are data scientist, cyber security specialist, user experience designer, head of digital and content specialist. 
India featured in four of the top five emerging jobs in terms of the proportion of international talent that chose to work in Singapore. Maximum number of Indians work as data scientist and cyber security specialist in Singapore. 
Singapore has growing job requirements as many Multinational Corporations (MNCs) have setup their reqional headquarters there. Soon, there will higher demand for specialised talent and foreign workers will be necessary to occupy the jobs created by the companies.