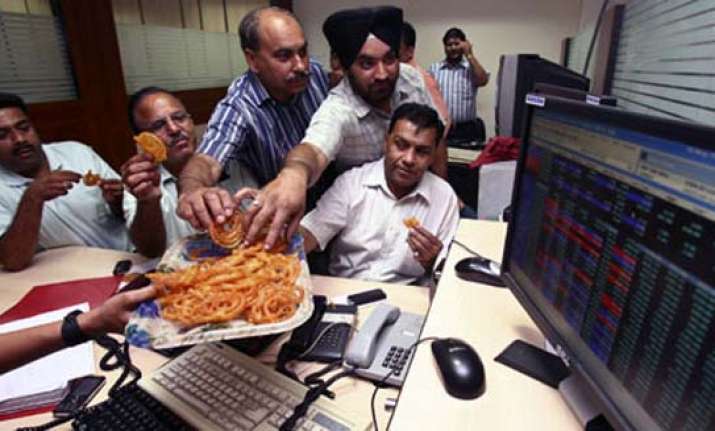 Markets made a smart recovery today after the Sensex losing close to 800 points as early trends showed the Congress gaining over the BJP in Gujarat. The benchmark S&P BSE Sensex ended in the green, up 139 points at 33,601.68, its highest closing since November 29 when it had closed at 33,602.76.
The NSE Nifty reclaimed the key 10,300-mark to close higher by 55.50 points, or 0.54 per cent, at 10,388.75, its highest closing since November 27.
Barring realty, all other BSE sectoral indices ended in the positive zone. Among them, metal index gained the most by 1.83 per cent, followed by auto 1.21 per cent, consumer durables 0.94 per cent and healthcare 0.78 per cent. On the other hand, realty index was down 0.29 per cent.
Top five Sensex gainers were M&M (+2.71%), Sun Pharma (+2.06%), State Bank of India (+1.97%), Wipro (+1.9%) and ICICI Bank (+1.78%), while the major losers were YES Bank (-1.23%), Coal India (-1.11%), Infosys (-0.79%), ITC (-0.62%) and Kotak Bank (-0.53%).
The positive note on which markets ended today are a sharp reversal from opening trade when both the Sensex and Nifty nosedived on the prospects of a Congress win in Gujarat.
The benchmark Sensex crashed by over 850 points and the NSE index Nifty nosedived by over 250 points.
The 30-share BSE index Sensex crashed by 867.34 points to 32,595.63 and the 50-share NSE index Nifty slumped by 258.45 points to 10,074.80.
The Sensex opened at 33,364.52 against the previous close of 33,462.97 and touched the day's low of 32,595.63. Similarly, the Nifty opened at 10,263.40 against the previous close of 10,333.25 and touched the day's low of 10,074.80.
The rupee also tumbled 68 paise to 64.72 against the dollar in early trade as early trends indicated a neck and neck race in Gujarat.
However, markets marked a rebound after the BJP pulled ahead and the numbers began to conform with exit poll results.
The BJP is all set to retain power in Gujarat for a sixth consecutive term, as Election Commission data showed the saffron party leading on 99 seats against the Congress at 80.
In Himachal Pradesh too, the Congress is set to relinquish power in the state to the BJP. The Congress was leading at 21 seats, much behind BJP's tally of 44.