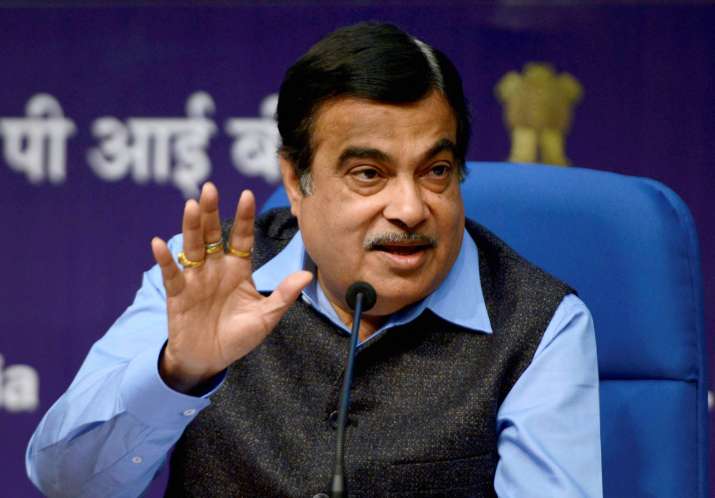 In a massive infrastructure push, the government on Tuesday approved a mega plan to build 83,677 km of highways by March 2022 at a cost of about Rs 7 lakh crore, which includes the ambitious Bharatmala project.  34,800 km of highways will be constructed at the cost of Rs 5.35 lakh crore under the Phase-1 of Bharatmala project.  
Union Minister Nitin Gadkari on Wednesday said the Bharatmala will be a major driver for economic growth in the country, and help realise Prime Minister Narendra Modi's vision of a 'New India.'
Here are 10 important things about the ambitious project: 
1- Bharatmala is an umbrella programme for the highways sector that focuses on optimizing efficiency of road traffic movement across the country by bridging critical infrastructure gaps.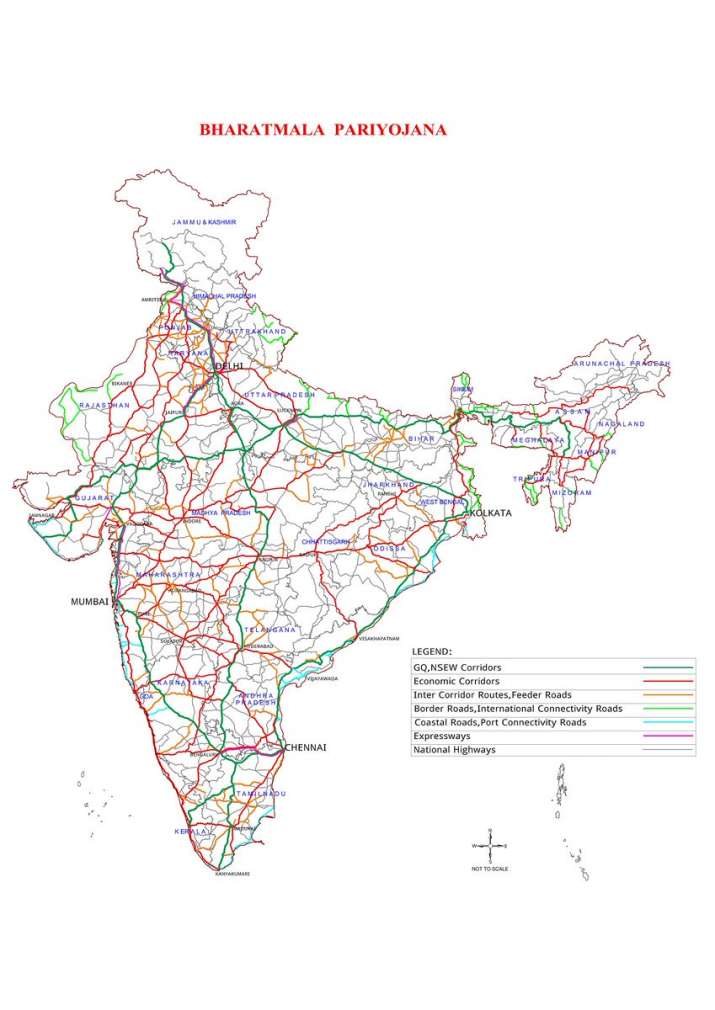 2- Bharatmala will give the country 50 national corridors as opposed to the 6 we have at present.
3- The 44 new economic corridors include Mumbai-Kolkata, Mumbai-Kanyakumari, Amritsar-Jamnagar, Agra- Mumbai, Pune-Vijaywada, Raipur-Dhanbad, Ludhiana-Ajmer, Surat-Nagpur, Hyderabad-Panaji, Jaipur-Indore, Solapur-Nagpur, Sagar-Varanasi, Raipur-Vishakhapatnam, Delhi-Lucknow, Chennai-Madurai, Delhi-Kanpur, Sagar-Lucknow and Sambalpur-Ranchi among others.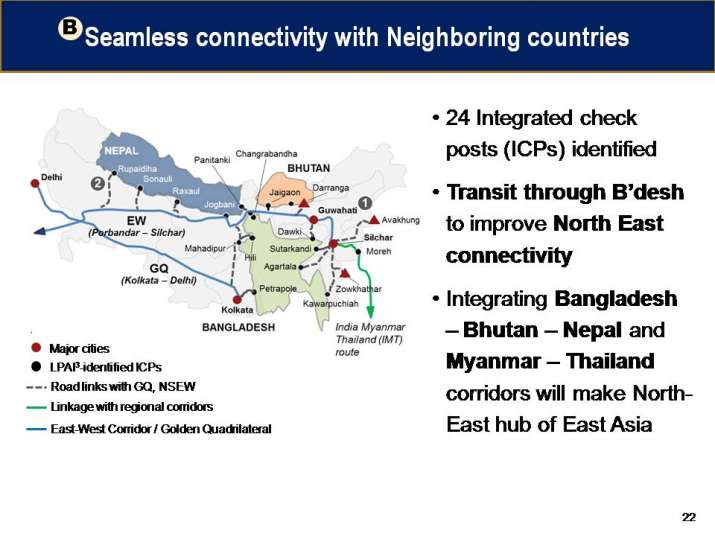 4- The programme will help to connect 550 Districts in the country through National Highway linkages, Minister of Road Transport & Highways, Shipping, Water Resources, River Development and Ganga Rejuvenation Nitin Gadkari said on Wednesday. 
5- After completion of the project, 70 – 80 percent of freight will move along NH as against the 40 percent at present.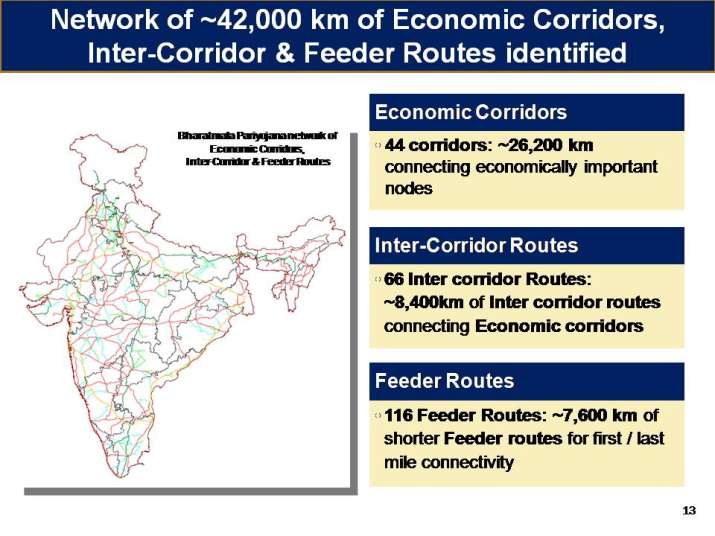 6- A total of around 24,800 kms are being considered in Phase I of Bharatmala. The project also includes 10,000 kms of balance road works under NHDP (National Highways Development Project), taking the total to 34,800 kms at an estimated cost of Rs 5.35 lakh crore.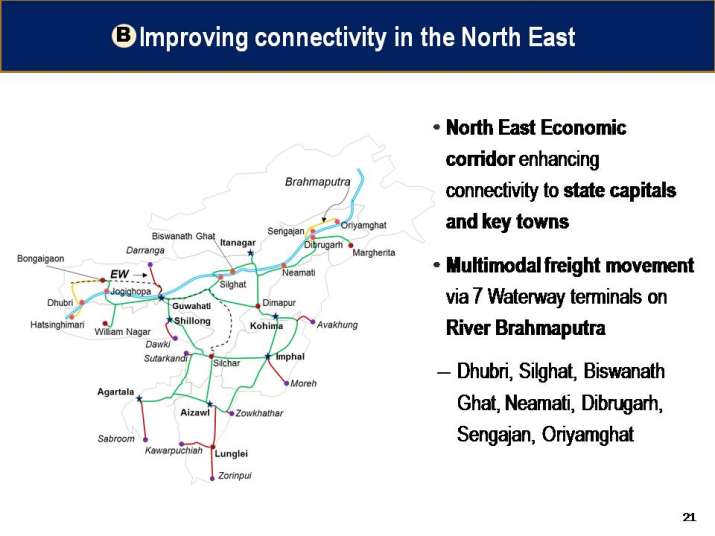 7- The government has said the Rs 5.35 lakh km project will include 9,000 km of economic corridors to unlock full economic potential, 6,000 km of inter-corridor and feeder routes, 5,000 km of national corridors, 2,000 km of border road connectivity, 800 km of expressways and 10,000 km of balance NHDP projects.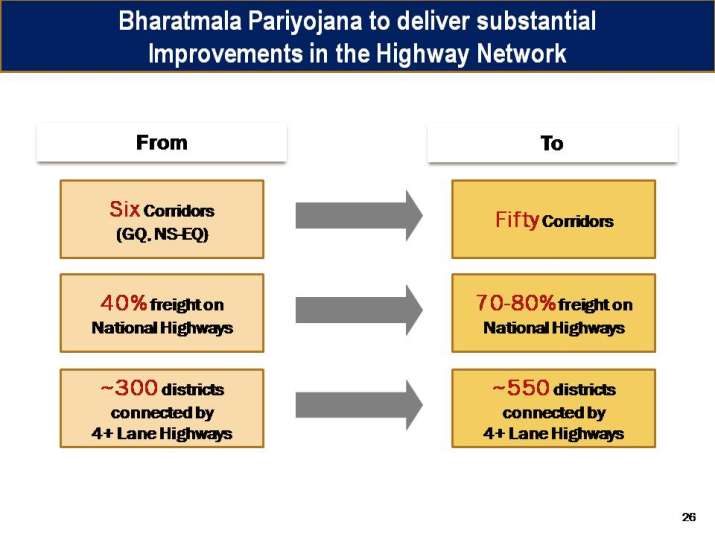 8- Bharatmala Phase I is to be implemented over a five years period from 2017-18 to 2021-22. 
9- Under the Bharatmala project, the government also plans to build 3300 kms of Border Roads of strategic importance along international boundaries and 2000 kms of International Connectivity roads to promote trade with Nepal, Bhutan, Bangladesh and Myanmar. Out of this around 2000 km will be taken up under Phase-I at an estimated cost of Rs 25,000 crore.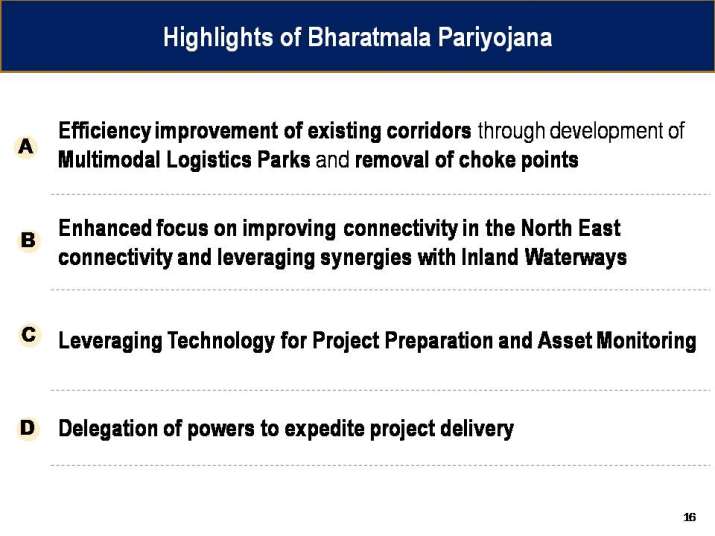 10- About the funding of the Rs 5.35 lakh crore Bharatmala Phase-1, Gadkari said Rs 2.37 lakh crore would flow from the central road fund, Rs 2.05 lakh crore as market borrowing, Rs 34,000 crore from monetisation of highway projects and Rs 60,000 crore through budgetary allocation.