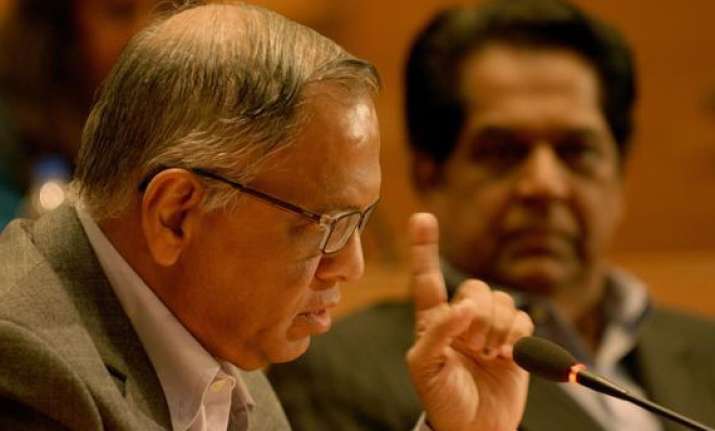 New Delhi, Jul 1: At Infosys Ltd's annual general meeting, returning chairman N.R. Narayana Murthy sought a three-year lien from shareholders to rebuild what he called a "desirable Infosys". Murthy's solution is to refocus the company on winning large revenue-yielding outsourcing projects in the short term. Over the past two years, the Bangalore-based IT giant has had a string of disappointing results as it struggled with a strategy to shift to higher value-added services by offering consultancy and software products and solutions.
The 66-year old founder, had returned as executive chairman of Infosys following a request from the company's board, which was under pressure from investors regarding existing troubles. Infosys grew at half the pace of the broader industry in 2012-13. Murthy had stepped down as CEO 11 years ago. He is the company's second-largest shareholder.
Murthy is hoping to rejuvenate the firm by revitalising his salesforce with incentives, spending more on the company's staff of more than 150,000, and offering flexibility on pricing to win large contracts. In a difficult operating environment, the company's rivals have strongly positioned themselves to win traction among both the consumers and investors. The company's current leadership has also failed to execute Infosys 3.0 well. In addition, it has also started losing its grip on bread-and-butter businesses like application development and maintenance while chasing margins. This year, Infosys expects to grow at a 6-10 per cent rate, lagging behind the industry's forecast of 12-14 per cent growth rate.
Muthy, who has also brought his son Rohan as executive assistant, has also been calling former team-mates to check if they would like to work with him.