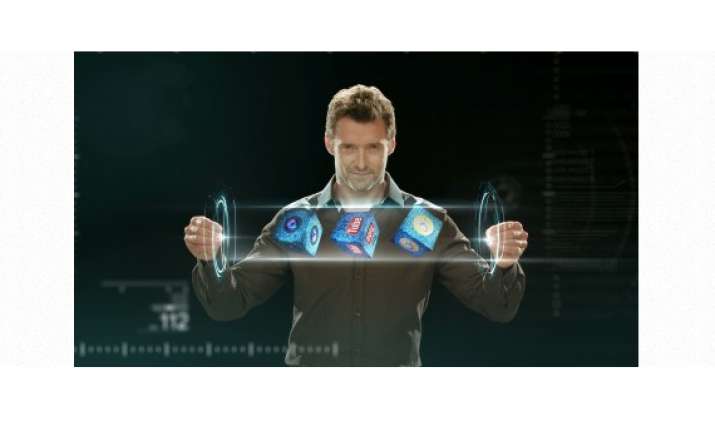 New Delhi: The signing up of Hugh Jackman, who is the third-highest paid male actor in the world, as brand ambassador of the Canvas Turbo (priced at Rs 19,999) by Micromax, has come as a surprise given that there are few instances where an Indian company has hired a Hollywood A-lister for endorsement.
Jackman is said to promote all products released over the next one year under Canvas, Micromax's flagship sub-brand. The teasers of Canvas Turbo are out and come with a theme: 'the phone that CAN juggle' which also takes forward the Micromax's 'nothing like anything' experience.  The TVC basically talks about the speed and multitasking features of the Canvas Turbo through the juggler.
By roping in Hugh Jackman, the homegrown handset maker has made its strategy clear: to become a well known global brand. Such an outreach will definitely be important to a company like Micromax which is set to enter Russia by December and Romania in the first quarter of next year. The company is also looking to foray into the African market as well.
"We aspire to emerge as a strong global brand. It is not just about India. It is time for more, beyond the sub-continent," said Micromax co-founder Rahul Sharma.
Apart from entering into high-growth market, it is also clear that the company would be looking to tap into the high-end buyers who are somewhat attracted to an Apple or a Samsung phone, even if it means shelling out extra for the brand alone.
Till date, Micromax's consumer base come from smaller towns where a youth can afford to pay few extra bucks to get a smartphone that is good in features and offer a value for money proposition. With this endorsement, the company hopes to tap into the premium section of smartphone buyers which is also influential.  
And so far the company's efforts have yielded great results: 'micromax' has become a hot trending word on Twitter. Similarly, the stories posted by the company related to the newly launched products on Facebook have started receiving lots of shares and likes.
Jackman, who so far is known for his work in four films: The Wolverine, the latest instalment of the X-Men series (where he also plays the Wolverine), Prisoners and Les Miderables, has done very few endorsement deals. He is known for his relation with German car maker Audi and a global advertising campaign for Lipton's ice tea range.
The latest report by International Data Corporation's (IDC) on the Indian mobile phone market for the second quarter indicates Samsung's market share fell to 26 percent while home-grown manufacturer Micromax continues to strengthen its number two position with a 22 percent market share. According to IDC, during the said quarter, Micromax crossed the 2 million unit mark in shipments. Phablets and the Canvas Series helped boost Micromax's numbers.
Sharma feels by appointing Hugh Jackman as a brand ambassador, Micromax will improve its image on the world scale so that people will not consider it to be an inferior or unreliable product.
"Our smartphones are multi-taskers and who can be a better ambassador than Hugh Jackman who embodies the aspirational, re-invented, fearless persona," Sharma says.
Obviously, Micromax will be giving a huge advertising push to promote its product range in other countries to make a dent in the in the UK and western Europe.
One thing is for sure, that Micromax will be banking on Jackman's earned media mojo to help their campaigns catch fire. But it remains to be seen whether the company be able to attract potential buyers by bringing in a Hollywood headliner or not.