Follow us on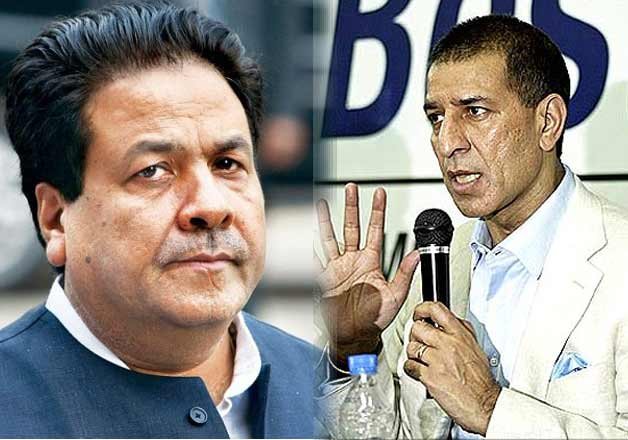 New Delhi: With each passing day, industry leaders are sounding more and more exasperated over the failure of the parliament to pass the crucial Goods and Services Tax (GST) Bill.
Rajan Mittal, Vice Chairman and Managing Director of Bharti Enterprises, today wondered why BJP and Congress were not settling the GST Bill amicably like in case of  BCCI where leaders of the two parties get things done so easily and smoothly.
"Why don't you settle GST Bill in BCCI? In BCCI meetings, there is hardly any stalemate and you people get everything passed," Mittal asked Rajeev Shukla, Congress MP and a senior BCCI official,  in a lighter vein during an interactive session held on the occasion of 88th AGM(Annual General Meeting) of trade chamber FICCI.
The moment Rajan Mittal asked this question, the entire hall broke into laughter. Rajeev Shukla, was also seen smiling but preferred not to react to this question.  The two other MPs sitting on the dais, Harsh Chandra Meena of BJP and Pawan Kumar Verma of JD(U) could also not stop themselves from smiling on this question.
Jyotsana Suri, the outgoing FICCI President, complemented Rajan Mittal for  coming up with this fantastic suggestion.
Mittal was obviously referring to the cordial relation that Rajeev Shukla shares with Arun Jaitley, former BCCI Vice-President, and BCCI secretary Anurag Thakur who is also a BJP MP.
But the most interesting suggestion to the politicians came from a lady entrepreneur named Asha Modi. Expressing  shock at the example being set by errant MPs who were not allowing the Parliament  to function, Asha tried to drive home the point by reminding them of a piece of advice that Mahatma Gandhi had rendered to the sex workers of Varanasi.
"Mahatma Gandhi while encouraging Varanasi sex workers to join the independence movement had advised them to start singing patriotic songs so that even those who visited them also developed patriotism and start thinking about the nation," Asha Modi said.
" I'll suggest our MPs should also start singing patriotic songs in parliament so that they stop disrupting it," she added.
The audience gave her big hands in appreciation of the suggestion. JD(U) MP Pawan Verma, in fact, made it a point to  thank her for putting the beautiful suggestion with such a nice anecdote.