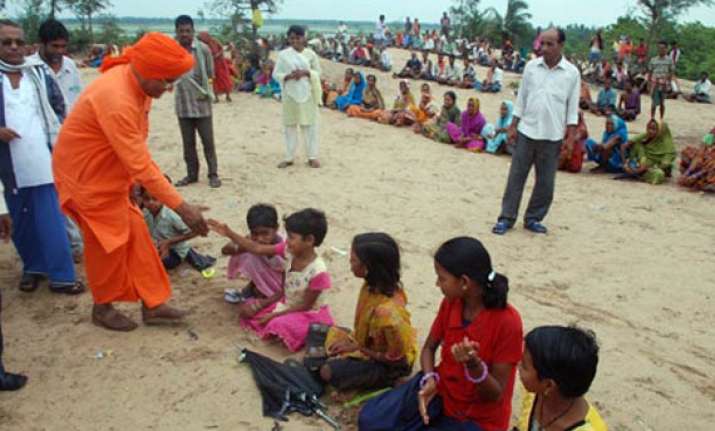 Bhubaneswar, Jun 27 :  Orissa government today declared "use of kids" in anti-Posco agitation as "illegal" after redeploying force close to the dharna site at Gobindpur village, the entry point to Dhinkia area. 
Armed police force which had been withdrawn from near the dharna site last week, was again deployed as the state government decided to resume the land acquisition work for the Rs 52,000 crore project soon, they said. 

"We have asked the agitators to clear the road to enable police and officials to move into Dhinkia area.  Preventing government officials from performing their duties is unlawful," Jagatsinghpur SP Devadutta Singh told PTI adding protestors should respect law of the land.  Chief Secretary B K Patnaik said, "It is illegal to use children in the agitation."

Jagatsinghpur MP Bibhu Prasad Tarai, on the other hand, justified children's participation as "normal and legal".

"No one has forced children to take part. As their parents are agitating, they come on their own," the MP said.  Posco Pratirodh Sangram Samiti (PPSS) however, dubbed the state government's move as "undemocratic" and "vulgar display of force".

"Our people are democratically protesting at the Govindpur village border protesting the forceful land acquisition for POSCO," PPSS president Abhay Sahu said.  Holding Chief Minister Naveen Patnaik responsible for redeployment of force near the dharna site, the PPSS leader appealed to all to come to the rescue of the unarmed agitators.
 
While hundreds of armed police were deployed near the dharna site to terrorise agitators, a separate police platoon (30 personnel) had entered into the village through the forest route to demolish betel vines, Sahu alleged.  Meanwhile, tension resurfaced over POSCO land acquisition with redeployment of force near the dharna site.  The police through public announcement system asked the agitators to vacate the place and stop using children as "shield".

While the anti-project groups have stepped up their activities, the administration was forced to halt the ongoing work at Polang area for the second day at the project site in the face of agitation by pro-Posco people. 

"We will also oppose the project if our six-point charter of demands are not fulfilled," said United Action Committee leader Tamil Pradhan.
Slogan-shouting youths, women and children marched to Noliasahi-Polang area in the Nuagaon panchayat where the boundary wall and rehabilitation colony were being built and demanded halting of work.

Land acquisition has been 'temporarily halted' since June 21, while work on land already acquired was continuing.  Three vehicles being used for the work were forced by villagers to drive to Nuagaon as about 200 armed police deployed nearby did not intervene, Pradhan said.

Additional District Magistrate, Paradip, Sarojkanta Choudhury said the agitation was unlawful as prohibitory orders were in force in the area.
The imposition of prohibitory orders were announced over public address system and the protesters asked to leave or face police action.