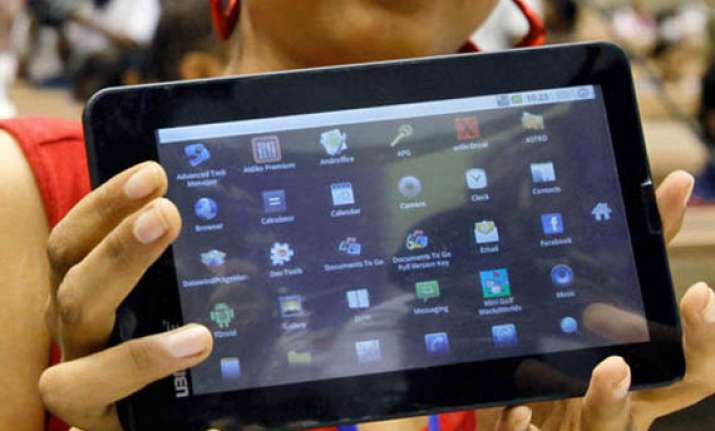 New Delhi, Nov 11: India's ultra-low cost tablet Aakash 2 has been officially launched at a subsidised rate of Rs 1132 for Indian students. President Pranab Mukherjee launched the new and improved Aakash 2 tablet at a function in Vigyan Bhavan, New Delhi.
Aimed at bridging the digital divide in the country, the new version of the Aakash tablet PC will come with 1GHz processor, four-hour battery time on Wi-Fi, capacitive screen and Android 4.0 operating system.
The tablet comes with screen resolution of 800×480 pixels. Akash 2 has front facing VGA camera along with Wi-fi support. It has 4GB (internal) flash memory, which is expandable up to 32GB using a micro SD card.
"The price is Rs 2,263 at which the government purchases the device from us. The government subsidises it by 50 percent and it will be distributed to students at Rs 1,130," said Datawind CEO Suneet Tuli.
He said the government is also trying to encourage the state governments to chip in by subsidising it further so that the device can eventually be available to students free of cost.
The first one lakh devices will be provided to students of engineering colleges and universities and subsequently these will be distributed to others.
About 22 crore students will get the device across the country in the next five to six years. By coming Monday alone, 20,000 devices are expected to reach out to the students.
Interested customers can book Aakash 2 online at official site of Aakash Tablet (ubislate.com). The Aakash 2 online booking has already started for commercial sale.
The first version of Aakash called Aakash 1 was launched by the government in October 2011. However, it was marked by testing problems and other specifications. The advanced version, thereafter was sent to the Union Ministers and the state chief ministers for their feedback.
"The response from them was very good with Defence Minister A K Antony describing it as a game changer for education. The Labour Ministry wanted the device to be distributed among ITI students," said HRD Ministry officials.
The Aakash tablet project was envisaged by the Ministry of Human Resource and Development, which plans to distribute about a million tablets in colleges in the coming years. It has awarded a contract for 100,000 tablets to UK's Datawind, which was under testing phase at IITs since a year.
In another development, Suneet Singh Tuli, Indian-origin CEO of Datawind, the maker of India's low-cost tablet Aakash, has been named by Forbes magazine among the 15 "classroom revolutionaries" who are using innovative technologies to reinvent education for students and teachers globally.