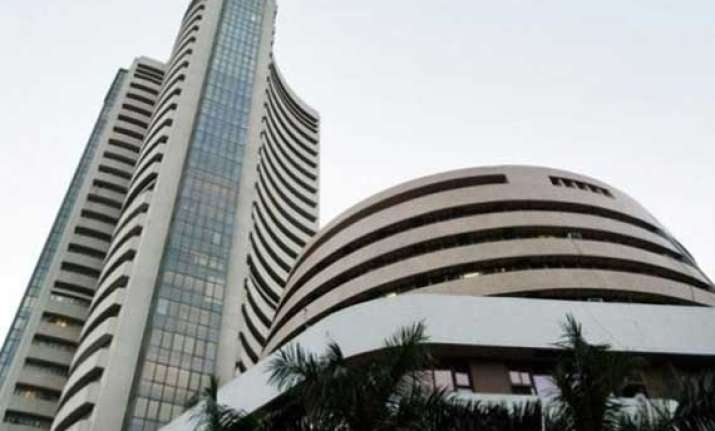 Mumbai: The BSE benchmark Sensex today slumped by 185 points to three week low of 22,323.90 on heavy profit-booking in IT, teck, realty, metal and auto shares amid slowing capital inflows.
Brokers said selling pressure intensified after UBS downgraded IT major Infosys to "sell" and slashed the target price by a steep 32 per cent. Infosys shares plunged 3.15 per cent at close, which also impacted other IT stocks.
Markets remained on bearish mode during the entire day day after a weak opening amid poor global cues. The Sensex resumed lower at 22,488.96 remained under pressure before settling the day at 22,323.90, a loss of 184.52 points or 0.82 per cent.
Its previous lowest level was 22,277 recorded on April 16 this year.
The 50-share Nifty of NSE also dropped by 62.75 points or 0.93 per cent to finish to six-week low of 6,652.55. It had last ended at 6,641.75 as on March 27, 2014.  "Selling in IT, teck and realty space kept the index under pressure from the beginning which intensified in the later part of session," said Jayant Manglik, President, Retail Distribution, Religare Securities.
Besides Infosys, HDFC lost 2.75 per cent, Hindalco 2.20 per cent, Cipla 2.07 per cent, Gail India 1.80 per cent, Wipro 1.77 per cent, Bajaj Auto 1.60 per cent, TCS 1.48 per cent, Maruti Suzuki 1.46 per cent, Bharti Airtel 1.36 per cent and Tata Power 1.03 per cent.
"A combination of profit booking, low overall exchange turnover and the markets bracing themselves for a volatile May saw markets continuing slow trend downwards.... investors have no reason to witness heavy volatility this week until election outcomes start trickling from next Monday onward," said  Raghu Kumar, Co-founder, RKSV.
Among BSE sectoral indices, IT fell by 2.59 per cent, followed by teck 2.23 per cent, realty 1.11 per cent, metal 0.71 per cent and Auto 0.70 per cent.
Brokers said lowing down of foreign capital inflows also impacted the market sentiment.
Foreign institutional investors (FIIs) bought shares worth a net Rs 45.93 crore yesterday, as per provisional data from stock exchanges.
Jignesh Chaudhary, Head Of Research, Veracity Broking Services, said: "Local equities traded weak today and is heading towards its second weekly fall in a row."
The market breadth remained negative as 1,493 stocks finished with losses, 1,234 stocks ended with gains while 137 rueld steady. The total turnover rose to Rs 2,789.65 crores from Rs 1,958.07 crores yesterday.
Asian shares fell amid mounting concerns that China's economy may be slowing. Key benchmark indices in Japan, Hong Kong, China, Singapore, South Korea and Taiwan ended lower by 0.22-0.93 per cent.
European markets were trading lower in their early trade. Key benchmark indices in UK, France and Germany fell by 0.0500.36 per cent.