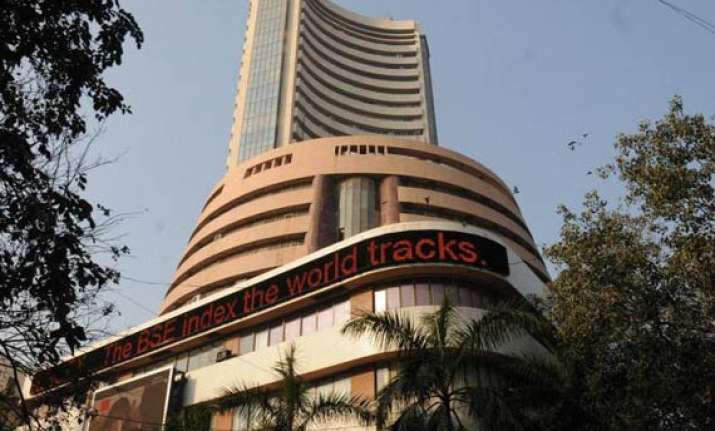 Mumbai, Dec 16: The BSE Sensex fell 345 points to over 2-year low of 15,491.35 on all-round selling as RBI raised concern over economic growth but did not move to infuse liquidity in the market, although it paused rate hike.

Markets fell after the Reserve Bank of India kept the cash reserve ratio (CRR) unchanged at its monetary policy review, although marketmen were expecting a cut in it from the current 6 per cent for increasing flow of funds.

"RBI paused the rate hiking cycle as per expectations and left the repo rate unchanged. However, a section of the market was also expecting a cut in CRR to aid the slackening growth.  RBI went for the conservative approach and left the CRR unchanged as well (dampening sentiment)," said Shanu Goel, Senior Research Analyst, Bonanza Portfolio.

The BSE 30-scrip index, Sensex, resumed higher and at reached 16,068.90, gaining about 150 points. However, it declined to over 2-year low after the RBI policy and ended the day at 15,491.35 -- down 345.12 points of 2.18 per cent. It was around this level at 15,404.04 on November 3, 2009.

Similarly, the broad-based National Stock Exchange index Nifty lost 92.75 points to 4,651.60.

Analysts said RBI's comments on growth added to investor concerns. Referring to its earlier GDP growth projection of 7.6 per cent for the current fiscal, RBI said, "Considering the global and domestic macroeconomic situation, the downside risks to the RBI growth projection, as set out in the second quarter review (in October), have increased significantly".

Meanwhile, FIIs continued off-loading Indian equities and sold shares worth Rs 323.28 crore yesterday as per the provisional data from the stock exchanges. They have sold stocks worth Rs 1,701.09 crore in five trading sessions from December 9-15.

Marketmen said that after raising lending rates 13 times since March 2010 to tame inflation, which is still high at over 9 per cent, RBI finally put a pause on the hikes which was a market positive but had been possibility discounted.

Globally, Asian stocks ended higher, while European markets were mixed amid positive economic data in the US. Key indices in China, Hong Kong, Japan, Taiwan, Singapore and South Korea gained up to 2.02 per cent.

In Europe, CAC (France) and DAX (Germany) eased marginally, while FTSE (UK) made some gains.

Of the 30 Sensex stocks, 27 ended with losses. L&T fell 5.33 per cent, Sterlite (4.28 pc), Jaiprakash Associates (4.06 pc), NTPC (3.91 pc), BHEL (3.88 pc), DLF (3.68 pc), SBI (3.67 pc), HDFC Bank (3.57 pc), RIL (3.43 pc), TCS (3.31 pc), Coal India (3.20 pc), ICICI Bank (3.18 pc), Tata Steel (2.72 pc), Tata Power (2.43 pc) and ITC (2.03 pc).
Among the sectoral indices, the BSE-Capital Goods fell by 4.36 pc, Realty - 3.34 pc, Bankex - 3.16 pc, Power - 2.76 pc, Metal - 2.59 pc, PSU - 2.27 pc and Oil&Gas - 2.26 pc.

The total market breadth on the BSE continued to remain negative as 1,884 stocks ended with losses, while 847 stocks finished with gains. Total turnover firmed to Rs 2,187.93 crore from the yesterday's closing level of Rs 2,041.89 crore.