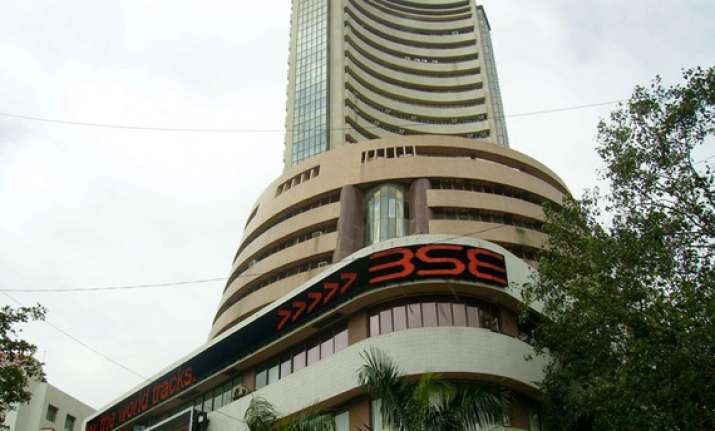 Mumbai, Jun 22: The BSE Sensex lost over 220 points during the day today before recovering vastly to close just 60 points down, ending 3-day winning streak, as the rupee touched record lows and heavyweight RIL fell further on reports of sharply lower-than-estimated gas reserves.
The BSE 30-scrip index resumed lower and dropped to day's low of 16,807.80 on weak global markets, impacted by a string of domestic and overseas factors including slowing economic growth, Moody's downgrading 15 of the world's big banks and persisting euro-zone troubles.
However, it wiped out much of the losses on short-coverings in view of next week's settlement in this month's derivatives contracts and selective value buying to settle at 16,972.51, down 60.05 points of 0.35 per cent. In last three days, it had risen by 326.73 points or 1.96 per cent.
The NSE 50-share index, Nifty, also fell 18.95 points or 0.37 per cent to end at 5,146.05.
The rupee fell way past the 57 mark against the US dollar for the first time to touch historic low of 57.30, adding to investor woes as it will impact negatively on the import dependent companies.
The heaviest stock on the benchmark, Reliance Industries dropped another 1.05 per cent. RIL's flagging KG-D6 block holds 80 per cent less natural gas reserves than previously estimated, the firm's junior partner Niko Resources of Canada said yesterday, when the stock had fallen 2.58 per cent.
The second heaviest Infosys lost 0.69 per cent. The two carry nearly 18 per cent weigh on the Sensex.
Of the 30 Sensex firms, 16 fell, while 14 ended with gains. Metals, capital goods, teck, IT, FMCG and refinery stocks led the fall.
Asian markets ended lower tracking sharp fall, second biggest drop of the year, on the Wall Street. Key indices in Singapore, Japan, Taiwan, South Korea and Hong Kong finished lower by up to 2.21 per cent.
In Europe, key indices in France, Germany and the UK were down by up to 1.05 per cent.
Meanwhile, back home, cement stocks lost ground after competition watchdog CCI slapped a hefty Rs 6,307 crore penalty on 11 companies for price cartelisation.
"The markets did not react as negatively was expected in the light of weak global cues, rupee's free fall and penalty on cement companies," said Nagji K Rita, Chairman and MD of Inventure Growth & Securities.
"A sharp bounce back was witnessed as bargain buying lifted the market higher. Volatility ahead of the June derivative expiry next week was quite high," said Rakesh Goel, Vice President at Bonanza Portfolio.
Foreign institutional investors (FIIs) sold shares worth a net Rs 257.29 crore yesterday as per provisional data from the stock exchanges.
Major losers were Hindalco (3.34 pc), Tata Steel (2.70 pc), Jindal Steel (1.63 pc), Coal India (1.24 pc), HDFC (1.19 pc), RIL (1.05 pc), Sun Pharma (1.03 pc) and SBI (0.97 pc).
However, ONGC firmed 1.47 per cent, Cipla 1.26 per cent and Maruti Suzuki 1 per cent.
Among the sectoral indices, the BSE-Capital Goods dropped by 0.63 per cent, while the BSE-Realty rose by 0.41 pct.
The market breadth turned negative as 1,392 shares ended with losses while 1,363 finished with gains.
The total turnover firmed to Rs 2,086.60 crore, from Rs 1,960.73 crore yesterday.