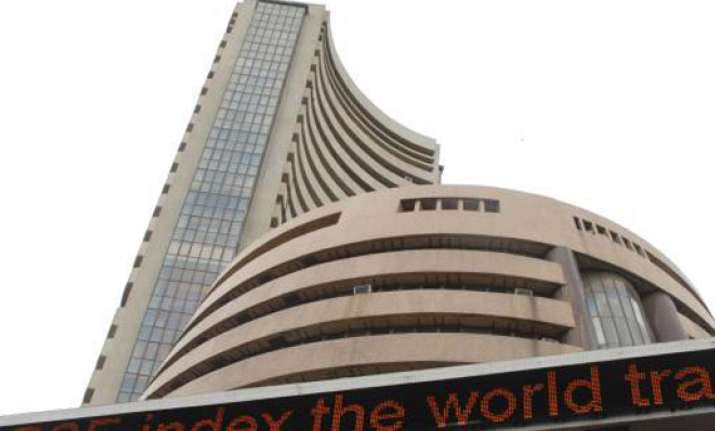 Mumbai, Jun 14: Indian stocks led by banks and capital goods fell today, with Sensex shedding nearly 203 points as inflation, which rose to 7.5 per cent in May, dampened hopes of a rate cut by Reserve Bank next week. 
The 30-share index opened weak amid negative trends from global markets as Moody's cut its rating on Spanish government debt by three notches.
With WPI inflation rising to 7.5 per cent in May and food inflation going up to 10.74 per cent from 10.49 per cent in the previous month dashing hopes of a rate cut by RBI, hectic selling emerged in interest-rate sensitive counters pulling Sensex down to 16,658.98. The index finally closed at 16,677.88, down 1.20 per cent.
Brokers said inflation numbers dimmed hopes of a minimum 25 bps cut by RBI in short-term lending rate that currently stands at 8 per cent. Investor wealth dropped by Rs 60,000 crore today with 6 out of 10 stocks ending lower in market.  
"The key issue before RBI is whether to support flagging growth momentum or tackle inflationary pressures due to a weak rupee and high food prices," said Sonal Varma, economist, Nomura India.
Among the 30-share index, Tata Motors was the worst hit losing 4.56 per cent, followed by capital goods major L&T (3.92 pc) and power producer NTPC (3.76 pc) as 25 constituents ended lower.
Bank counters including ICICI Bank, SBI and HDFC Bank lost 1.5-3.5 per cent. Auto majors Tata Motors, Maruti, Bajaj Auto, M&M and Hero MotoCorp also ended on the losing side. 
Similarly, the broad-based National Stock Exchange index Nifty fell by 66.70 points, or 1.30 per cent to 5,054.75.
The rupee was last trading at 55.81 against the US dollar, down 13 paise over yesterday's close of 55.68.