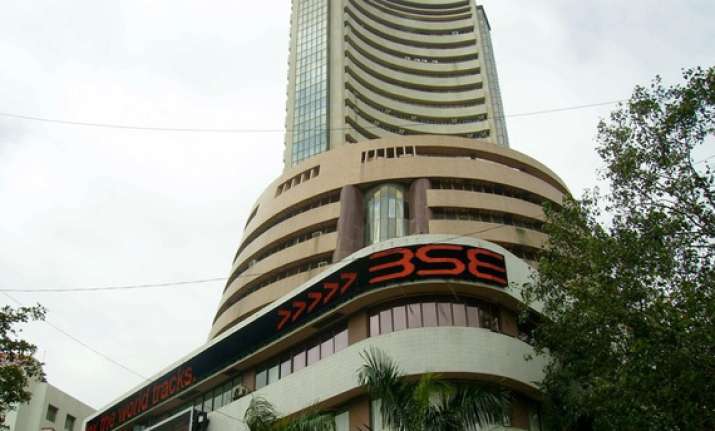 Mumbai, Feb 29: The Bombay Stock Exchange benchmark Sensex erased initial gains on weak GDP growth numbers to end marginally up by 22 points as funds booked profits.

The Sensex, which opened on a high note and crossed the 18k mark by gaining over 250 points, eventually closed just 21.56 points, or 0.12 per cent up at 17,752.68.

The National Stock Exchange index Nifty added 9.70 points, 0.18 per cent to 5,385.20, after touching the day's high of 5,458.80.

Reliance Industries, with heaviest weight on Sensex, surged 2.84 per cent cushioning the fall. State-owned ONGC also rose 3.46 per cent after the government decided to offload 5 per cent stake in the company through auction.

The market sentiment turned weak as October-December GDP grew at a slowest pace in more than two years. According to the data released today, the growth slowed down to 6.1 per cent, from 8.3 per cent in the third quarter last fiscal.

A better trend in global markets after US consumer confidence beat expectations, and rising factory output in Japan and South Korea, boosting optimism for global demand, further supported the market from any major fall.

Major Sensex gainers were SBI, Tata Steel, Infosys, Wipro, Bajaj Auto, Bharti Airtel, Mahindra and Mahindra, Sun Pharma and Tata Power. Of the 30 Sensex stocks, 17 ended higher, while 13 closed with losses.

The oil and gas sector index gained the most by rising 2.53 per cent to 8,711.71, followed by metals - 1.45 per cent to 12,052.39.