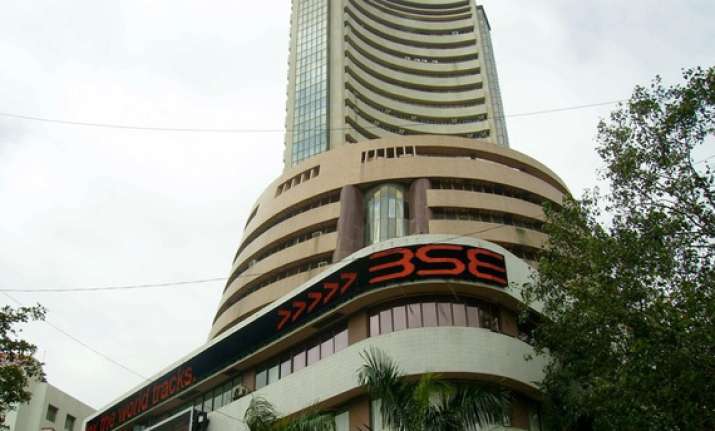 Mumbai, Mar 5: The BSE Sensex dipped 274 points at 17,362.87 on profit-booking ahead of the results of crucial state elections, amid weak global markets as China projected lower growth for this year.

Realty, metals, banking, capital goods, PSU, consumer durables and refinery stocks faced the selling pressure.

Global markets turned weak as China, the world's second largest economy, for the first time in seven years scaled down its GDP growth target to 7.5 per cent.

"Coupled with the jittery sentiments on slowing China's growth, the sentiment in the domestic market was cautious ahead of important state election results to be declared tomorrow. Weak openings in European markets worsened the sentiments during the afternoon trade." said Shanu Goel, Research Analyst at Bonanza Portfolio.

The BSE 30-scrip benchmark Sensex opened lower at 17,598.42 and dropped further to 17,312.30.

Eventually, it settled at 17,362.87, down 274.12 points, or 1.55 per cent. The NSE 50-share Nifty also dropped by 79.05 points or 1.47 per cent to end at 5,280.35.

Top heavyweights on the Sensex, Reliance Industries fell by 1.97 per cent and Infosys by 1.90 per cent. SBI, ICICI Bank, HDFC Bank, L&T, BHEL, Jindal Steel were among other big losers.

In Asia, indices in China, Hong Kong, Japan, Singapore, South Korea and Taiwan fell by up to 1.38 per cent. Mining shares led decline in European stock markets. Key indices in France (CAC), Germany (DAX) and the UK (FTSE) shed up to 1.14 per cent.

Of the 30 Sensex scrips, 25 ended with losses. DLF was down 5.44 per cent, Hindalco (5.35 pc), Gail India (4.88 pc), Jindal Steel (3.99 pc), ICICI Bank (3.88 pc), BHEL (3.67 pc), Tata Steel (3.51 pc), SBI (3.40 pc), HeroMoto (2.91 pc), L&T (2.42 pc), Sterlite (2.31 pc), Bajaj Auto (2.03 pc), Tata Power (2.03 pc), HDFC (2 pc), RIL (1.88 pc), Sun Pharma (1.80 pc), Infosys (1.75 pc), HDFC Bank (1.46 pc) and Coal India (1.06 pc).

However, Tata Motors shot 2.09 pc, followed by Wipro - 1.38 pc and ITC - 1.17 pc.

Among the sectoral indices, the BSE-Realty fell 3.26 pc, followed Metal - 3.06 pc, Bankex - 2.62 pc, Capital goods - 2.47 pc, Consumer Durable - 1.78 pc, PSU - 1.75 pc, Oil&Gas - 1.40 pc, Power - 1.35 pc and IT - 1.10 pc.

The BSE-small cap and the BSE-Mid cap indices also declined by 0.95 per cent and 1.39 per cent respectively.

The total market breadth turned negative as 1,844 stocks finished in the red, while 986 stocks ended in green. The total turnover was Rs 2,456.13 crore.