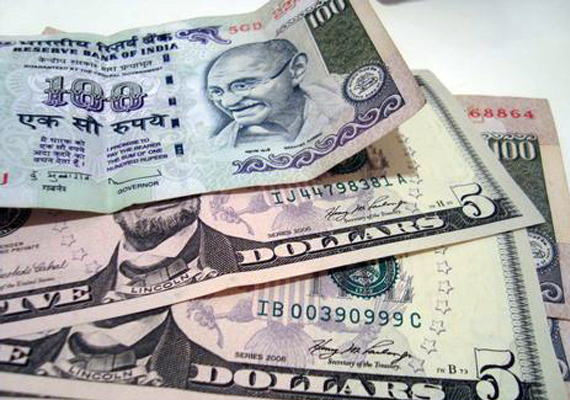 Mumbai, Feb 15: The rupee today recovered marginally by seven paise to close at 49.29/30 against the US dollar amid sustained capital inflows.

Forex dealers said fresh selling of the Amercian currency by exporters on hopes of further fall in its value overseas aided the rupee's value.

The dollar index, consisting of six major currencies, was down by over 0.2 per cent in the European market. 

The local unit moved between 40.19 and 40.40 at the Interbank Foreign Exchange (Forex) market, before closing down higher by seven paise at 40.29/30.

Meanwhile, the BSE benchmark index Sensex rose by 354 points to close at 18,202.41.

FIIs remained net buyers in equities as they pumped in USD 232.44 million yesterday. In the current calender year till February 14, they infused USD 4.41 billion in equities as per Sebi data.

The rupee premium for the forward dollar ended mixed on alternate bouts of buying and selling.

The benchmark six-month forward dollar premium payable in July softened further to 155-1/2-157-1/2 paise from Tuesday's close of 156-1/2-158-1/2 paise while far-forward contracts maturing in January inched up to 282-284 paise from 281-283 paise previously.

The RBI has fixed the reference rate for the US dollar at 49.2520 and for euro at 64.8900.

The rupee remained firm against the pound sterling to end at Rs 77.48/50 from overnight close of Rs 77.74/76 and also hardened to Rs 64.87/89 per euro from Rs 65.12/14 previously. 

It continued to rule strong against the Japanese yen to Rs 62.74/76 per 100 yen from last close of Rs 63.24/26.