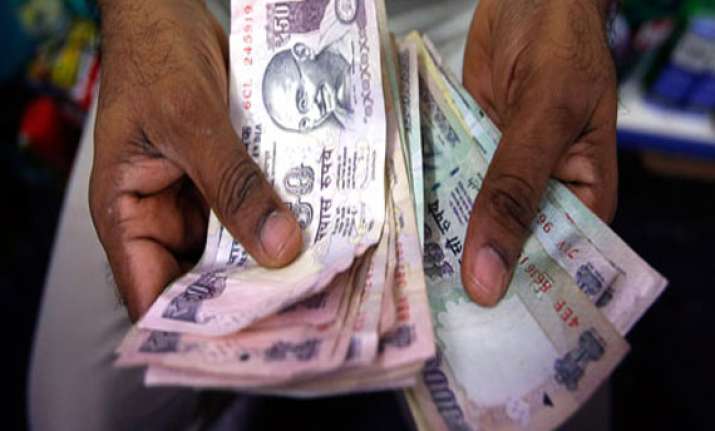 Mumbai: The rupee strengthened for the third day in a row, adding 29 paise to 61.44 against the dollar today on continued expectations the US government shutdown would delay tapering of the Fed's stimulus programme.
Dollar sales by exporters amid positive local stocks also supported the rupee, which is up 107 paise, or 1.71 per cent, this past week.
At the interbank foreign exchange market, the rupee resumed lower at 61.85 and dropped to a low of 61.95 on initial hesitancy in local equities.
It bounced back to a high of 61.25 before closing at 61.44, a gain of 29 paise or 0.47 per cent. It was the highest close for the rupee since reaching 61.43 on August 14.  
"Continuous weakness in the US dollar supported the rupee," said Abhishek Goenka, CEO of India Forex Advisors. "Rupee was seen gaining amid bets that the prolonged shutdown of the US government would further delay any tapering of the Federal Reserve's massive stimulus."
The US government shutdown entered its fourth day today as efforts to break the political standoff between Republicans and Democrats over the budget failed to make any headway.
Foreign investors may pull out from emerging markets, including India, if the Fed eases its monthly USD 85 billion bond-buying programme as the US economy revives.
The 30-share S&P BSE Sensex closed up 13.88 points after a choppy session as talks on the US budget and debt limit continued without any indication of a resolution.
Foreign institutional investors bought a net USD 188.26 million of shares yesterday, as per Sebi data.
"The trading range for the USD-INR pair is expected to be within 61.00 to 62.50," said Pramit Brahmbhatt, CEO of Alpari Financial Services (India).
Forward dollar premiums remained weak on sustained receipts by exporters.
The benchmark six-month forward dollar premium payable in March declined to 247-252 paise from 254-257 paise previously and far-forward contracts maturing in September dropped to 459-464 paise from 468-472 paise.
The RBI fixed the reference rate for the dollar at 61.4050 and for the euro at 83.6790.
The rupee shot up to 98.53 against the pound from 100.03 previously and strengthened to 83.10 per euro from 83.97.  It fell back against the Japanese yen to 63.22 per 100 yen from the earlier close of 63.16.