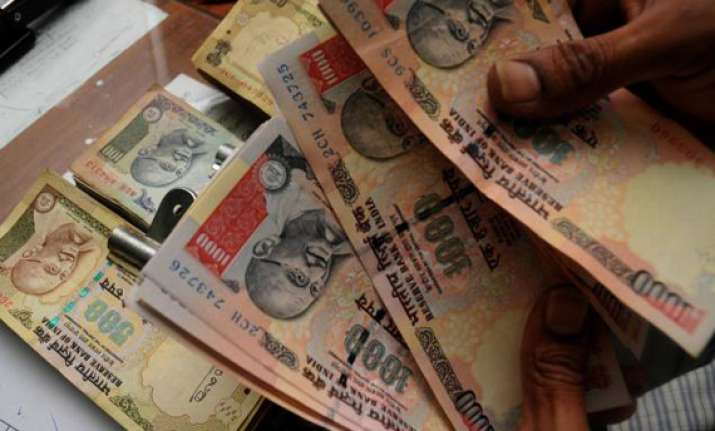 Mumbai, Mar 16: The rupee pared early losses to end the day 20 paise up against the US currency as Budget proposals to allow overseas borrowings for more sectors and doubling import duty on gold boosted the sentiment on domestic currency.

After a volatile trade, the rupee closed 20 paise higher at 50.18/19 a dollar. The gain in rupee in contrary to the sharp fall in stocks, as the BSE Sensex fell by 210 points, and strong dollar overseas.

Analysts said Budget proposals to allow ECBs for aviation, power, road and other sectors raised hopes of more fund flows to the country.

The government's move to hike import duty on gold, which is expected to impact demand, also boosted the rupee they said. India is the largest gold consmuer and gold imports account for a large chunk of country's total purchases.

The local currency opened strong at 50.27/28 at the Interbank Foreign Exchange (Forex) market in line with early rise in stocks. It turned negative at mid-session and hit a low of 50.43.

However, fag-end dollar selling by exporters and some banks aided the rupee to close at 50.18/19 against yesterday's close of 50.38/39, up 0.39 per cent.

FIIs pumped in USD 36.42 million yesterday, taking the total to over USD 1.4 billion in the current month till March 15 and over USD 8.6 billion in 2012 so far, as per Sebi data.

"The rupee showed a upward correction on account of profit booking in dollar today after swiftly depreciating to 50.48 levels yesterday," India Forex Advisors CEO Abhishek Goenka said.

The dollar index, consisting of six ajor currencies, was up by a mere 0.06 per cent, while New York crude oil was trading at nearly USD 105.5 a barrel in European market today.

The rupee premium for the forward dollar recovered slightly on stray paying pressure from banks and corporates.

The benchmark six-month forward dollar premium payable in August ended a bit higher at 170-1/2-172-1/2 paise from overnight close of 170-172 paise and far-forward contracts maturing in February also finished higher at 301-303 paise from 298-300 paise.

The RBI has fixed the reference rate for the US dollar at 50.3130 and for euro at 65.8262.

The rupee ended slightly better at Rs 78.96/98 against the pound sterling from Rs 78.98/79.00 yesterday and also rebounded against the euro to Rs 65.59/61 from Rs 65.83/85.

It, too, bounced back against the Japanese yen to Rs 59.84/86 per 100 yen from last close of Rs 60.49/51.