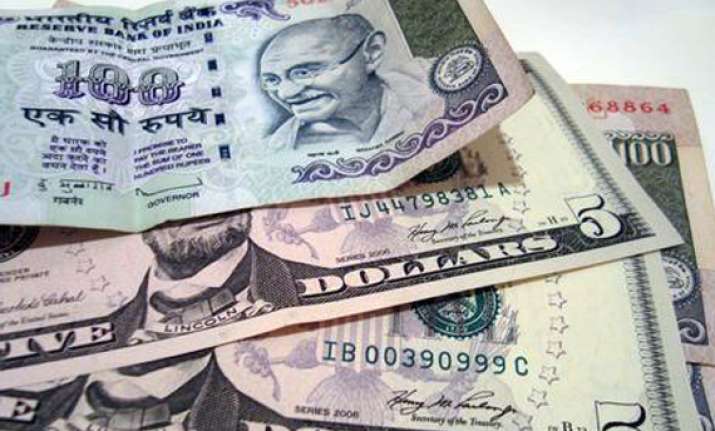 Mumbai, Jun 25: The rupee slumped to fresh record low of 57.92 after RBI measures to stem the currency slide failed to enthuse investors but it managed to recover some ground and closed 14 paise higher at 57.01 in a day of huge volatility. 
At the Forex market, the domestic unit opened strong at 56.73 on initial rally in local stocks amid expectations of aggressive measures from the government today to arrest the rupee's down slide, which has fallen over 26 per cent in the last one year.
The mood improved after Moody's today retained country's credit rating outlook at "stable".
The rupee even touched a high of 56.38, up 77 paise or 1.35 per cent.  But RBI measures came as a cropper. It announced a hike in FII limit in government bonds to USD 20 billion, while allowing up to USD 10 bilion from overseas borrowings by India Inc for financing new projects and refinancing of rupee loans. 
The currency soon started falling and touched a fresh low of 57.92 by late trade but recouped losses to end at 57.01, up 14 paise or 0.24 per cent against the previous close of 57.15.
It was a day of huge fluctuations for the local currency, swinging between 57.92 and 56.38, a difference of 154 paise, one of the largest in recent history. However, the meagre rise in rupee today against the dollar snapped a losing string of five straight losses.
"Initially, rupee appreciated on the expectations that some big-bang measures would come. However, as the announcements disappointed the market, rupee slipped.
The steps will have a medium-term impact," said Moses Harding, Head - ALCO and Economic and Market Research, IndusInd Bank.  Hemal Doshi, Currency Strategist, Geojit Comtrade said without any further measures, rupee touching 58 level is a real possibility.
Meanwhile, the Indian stock market benchmark Sensex, which was up today by over 158 points in early trade, closed down by over 90 points or 0.53 per cent on late selling.
Late dollar buying by importers, mainly oil refiners, to meet their month-end dollar demand also put pressure on the rupee to a major extent, forex dealers said. 
The dollar index was up by about 0.45 per cent against its other major six rivals today as investors kept themselves away from risky assets amid fading hopes for any major initiatives for the Eurozone debt crisis when European Union leaders meet later this week.
Pramit Brahmbhatt, CEO, Alpari Financial Services (India) said," The rupee which has been trading on a stronger note on expectations of an policy or administrative action by the government and RBI reversed the major part of early gains as the actual action by RBI ran short of market expectations."
"The RBI directed its actions to aid increase in the Foreign capital flows by hike the limits and expanding the external commercial borrowings net. The move aimed though reasonable fell short of the investor expectations. The RBI act disappointed because it should have first taken some steps to stem growth in economy and then take action to increase inflows," he added.
The premium for the forward dollar closed higher on fresh paying pressure from banks and corporates. 
The benchmark six-month forward dollar premium payable in November ended better at 152-154 paise from 150-152 paise last weekend.
The far-forward contracts maturing in May recovered to 293-295 paise from 286-288 paise.
The RBI fixed the reference rate for the US dollar at 56.5340 and for euro at 70.8308.
The rupee bounced back against the pound sterling to end at 88.62 from last Friday's close of 89.16 and also shot up to 71.15 per euro from 71.68.
However, rupee declined further against the Japanese yen to 71.42 per 100 yen from last close of 71.20.