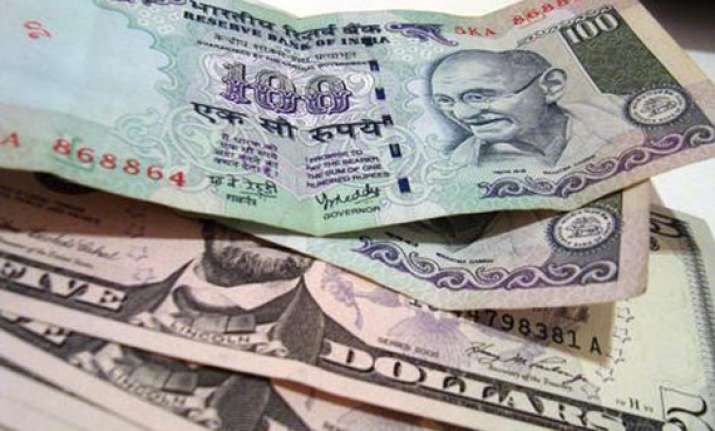 Mumbai, Mar 14: The rupee today ended marginally higher by two paise at 49.91/92 against the US currency on mild dollar selling by banks and exporters amid sustained foreign capital inflows.

Dealers said persistent selling of dollars by banks and exporters after continued foreign capital inflows into equity market ahead of of RBI's policy meeting tomorrow and Union Budget on Friday boosted the rupee against the dollar.

However, dollar demand from oil importers capped the rupee gains, they said.

The local unit hovered in a range of 49.83 and 50.02 at the Interbank Foreign Exchange (Forex) market before settling at 49.91/92, or 2 paise higher from its previous close.

Foreign institutional investors (FIIs) have made substantial purchases in last three days. FIIs bought shares worth a net Rs 872.69 crore yesterday as per provisional data from the stock exchanges.

Meanwhile, the BSE benchmark index Sensex ended higher by 106 points at 17,919.30.

However, in the New York market, the dollar extended gains against the Japanese yen yesterday, touching its highest level since last April and held on to an advance versus the euro, after the Federal Reserve noted shortcomings in the job market and housing sector, while seeing improvement in business and household spending.

Meanwhile, Inflation rose to 6.95 per cent in February because of sharp increase in food prices, especially vegetables and protein-based items.

US crude oil was trading below USD 107 a barrel in London today. The dollar index of six major currencies was up by 0.08 per cent in European market.

The rupee premium for the forward dollar finished lower on fresh receivings by exporters.

The benchmark six-month forward dollar premium payable in August ended down at 171-173 paise from yesterday's close of 175-177 paise and far-forward contracts maturing in February also settle lower at 298-300 paise from 303-305 paise previously.

The RBI has fixed the reference rate for the US dollar at 49.9030 and for euro at 65.0885.

The rupee declined further against the pound sterling to end at Rs 78.48/50 from Tuesday's close of Rs 78.22/24 while remained firm against the euro to Rs 65.28/30 from Rs 65.50/52 previously.

It, also, shot up further against Japanese yen at Rs 59.77/79 per 100 yen from last close of Rs 60.40/42.