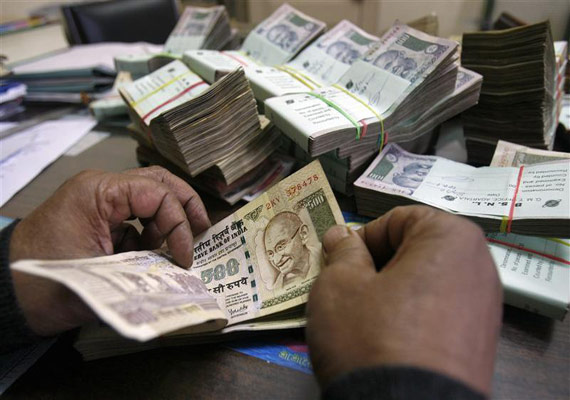 Mumbai, Mar 27: The rupee today gained a hefty 58 paise against the US currency to end its five-session falling string on fresh dollar selling by exporters and banks.
Suspected intervention by the central bank and also hopes of more capital inflows into equity markets helped the rupee to bounce back, a dealer said.
At the Interbank Foreign Exchange (Forex) market, the domestic unit settled at 50.69/70, a gain of 58 paise, or 1.13 per cent, over the last close. In last five sessions, it had fallen by 1.09 paise or 2.17 per cent.
The domestic currency had opened higher at 51.15/16 a dollar against last close of 51.27/28 on weakness in dollar in early stages after the US Federal Reserve Chairman kept the door open for more monetary easing.
However, the dollar recovered in late afternoon deals and its index was quoting higher over 0.1 per cent against a basket of currencies in Europe today ahead of US housing as well as consumer data.
The rupee later shot up to 50.62 before ending at 50.69/70.
"The overnight losses in dollar index helped rupee for a stronger opening which continued in the day's session on RBI intervention and intra-day positive equity markets," Alpari Financial Services (India) CEO Pramit Brahmbhatt said.
"The Equity markets remained volatile amidst strengths in INR and the reports over Governments stance concerning recently proposed General Anti-Avoidance Rule (GAAR) which will come into effect from 1 April 2012," he added.
RBI intervening the money market, however, could not be independently ascertained.
According to provisional bourses data, FIIs invested Rs 42.99 crore into equity markets today.
The rupee premium for the forward dollar ended lower on fresh receivings by exporters.
The benchmark six-month forward dollar premium payable in August finished down at 164-1/2-166 paise from 167-1/2-169-1/2 paise and far-forward contracts maturing in February also closed lower at 296-298 paise from 302-304 paise previously.
The RBI has fixed the reference rate for the US dollar at 50.9083 and for euro at 67.9860.
The rupee recovered against the pound sterling to end at Rs 80.86/88 from overnight close of Rs 81.40/42 and also rebounded against the euro to Rs 67.66/68 from Rs 67.90/92.
It, too, firmed up against the Japanese yen to Rs 61.15/17 per 100 yen from Rs 61.80/82.