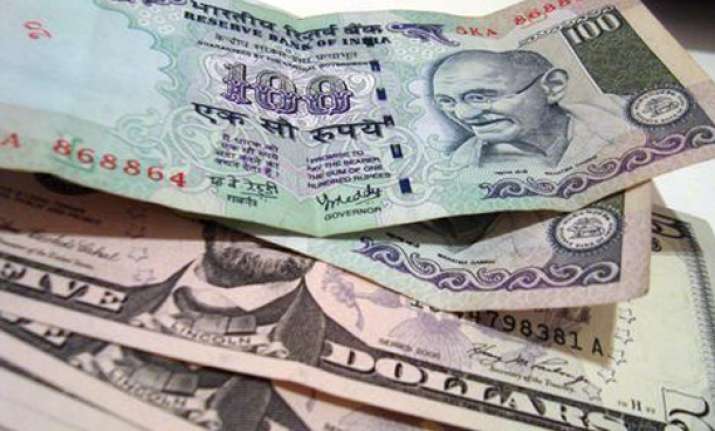 Mumbai, Nov 28: In line with the rally in local stocks, the rupee today gained 30 paise to settle at one-week's high of 51.95/96 against the US dollar amid fresh dollar selling by exporters.

Forex dealers said weak dollar overseas also aided the rupee but signs of sustained capital outflows capped the local currency's rise to some extent.

At the Interbank Foreign Exchange (Forex) market, the rupee moved in a range of 52.14 and 51.86 before settling at 51.95/96, up 0.57 per cent from its last close.

Meanwhile, the BSE benchmark index, Sensex, surged by 472 points to regain the 16,000 level after a week. It ended the day at at 16,167.13 amid firm global markets and investor hopes that the government will push more reforms after its move to open multi-brand retail sector to foreign investments.

The rupee sentiment was also boosted by fresh dollar selling by exporters on the possibility of further fall in dollar value in overseas market after reports of European and IMF measures to tackle the debt crisis.

FIIs have sold shares nearly worth USD 1.2 billion in nine trading days since November 15.

Meanwhile, the New York crude oil was trading above USD 99 a barrel in European market today.

The rupee premium for the forward dollar also recovered on fresh paying pressure from banks and corporates.

The benchmark six-month forward dollar premium payable in April rose to 92-94 paise from last Friday's level of 83-86 paise and far-forward contracts maturing in October also ended strong at 152-1/2-154-1/2 paise from 139-142 paise previously.

The RBI has fixed the reference rate for the US dollar at Rs 51.9830 and for the euro at Rs 69.1243.

The rupee fell back slightly against the pound sterling to end at Rs 90.94/96 from last weekend's close of Rs 80.82/84 and also turned negative to finish at Rs 69.46/48 per euro from Rs 69.14/16 previously.

It, however, firmed up further against the Japanese yen to Rs 66.86/88 per 100 yen from last close of Rs 67.45/47.