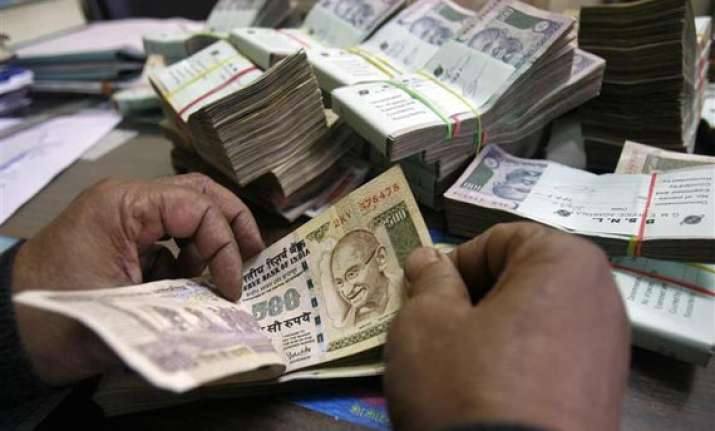 Mumbai: In a range-bound session, the rupee trimmed initial gains and ended six paise lower at 61.52 against the dollar today, in line with a fall in local equities ahead of the RBI's policy review meeting.
Month-end dollar demand from importers, mainly oil refiners, also put pressure on the rupee, a forex dealer said.
The rupee resumed higher at 61.35 per dollar against the previous close of 61.46 at the interbank foreign exchange market and hovered in a range of 61.37 to 61.60 per dollar before settling at 61.52, a fall of six paise or 0.1 per cent.
"Since the last one week, the rupee has been trading in the range of 61.20-61.80...This shows that there is a lack of direction," said Abhishek Goenka, CEO of India Forex Advisors.
"Tomorrow's RBI monetary policy will be keenly watched, where a 25 bps repo rate hike is widely expected."
According to some banks, the Reserve Bank of India may increase a key interest rate to 7.75 percent from 7.5 per cent in its Second Quarter Review of Monetary Policy on Tuesday to contain rising prices, while also announcing steps to ease liquidity.
The 30-share S&P BSE Sensex fell 113.24 points, or 0.55 per cent, extending losses for the fifth straight trading day.
The dollar index was up 0.05 per cent against a basket of six major global rivals.
Forward dollar premiums ended slightly better. The benchmark six-month forward dollar premium payable in March edged up to 213-1/2-215-1/2 paise from 213-215 paise previously, while far-forward contracts maturing in September rose to 441-444 paise from 439-442 paise.
The RBI fixed the reference rate for the dollar at 61.5030 and for the euro at 84.8825.
The rupee declined further to 99.63 against the pound from last weekend's close of 99.52 and ended at 84.90 per euro from 84.79.
It recovered against the Japanese yen to 63.01 per 100 yen from 63.16.