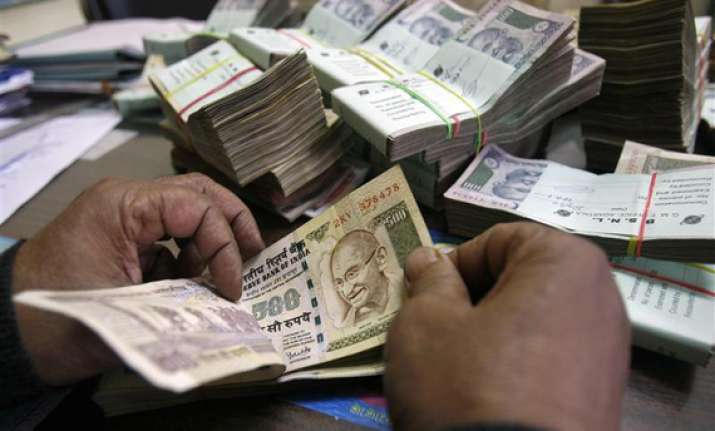 Mumbai, Mar 15: Tracking the steep fall in stock markets, the rupee lost a hefty 47 paise to end the day sub-50 level after six days at 50.38/39 against the dollar.

The domestic currency moved in the range of 50.08 and 50.48 per dollar during the day after opening distinctly weak at 50.10/11.

The rupee finally ended the day at 50.38/39, lower by 47 paise from last close of 49.91/92.

Strong demand for dollar from some banks and importers in view of its higher value in the international market mainly impacted the rupee sentiment, a forex dealer said.

In New York, the dollar rose to an 11-month high against the Japanese yen and posted gains against other currencies yesterday.

Meanwhile, the BSE benchmark Sensex ended lower by 243 points, or 1.36 per cent, to 17,675.85 as the Reserve Bank refrained from cutting key lending rates and investors turned cautious ahead of the Union Budget tomorrow.

The rupee premium for the forward dollar ended slightly lower on sustained receivings by exporters.

The benchmark six-month forward dollar premium payable in August eased to 170-172 paise from yesterday's close of 171-173 paise while far-forward contracts maturing in February ruled steady at 298-300 paise.

The RBI has fixed the reference rate for the US dollar at 50.2225 and for euro at 65.5355.

The rupee remained weak against the pound sterling to end at Rs 78.98/79.00 from Wednesday's close of Rs 78.48/50 while reacted downwards against the euro to Rs 65.83/85 from Rs 65.28/30 previously.

It, also, fell back sharply against the Japanese yen to Rs 60.49/51 per 100 yen from the last close of Rs 59.77/79.