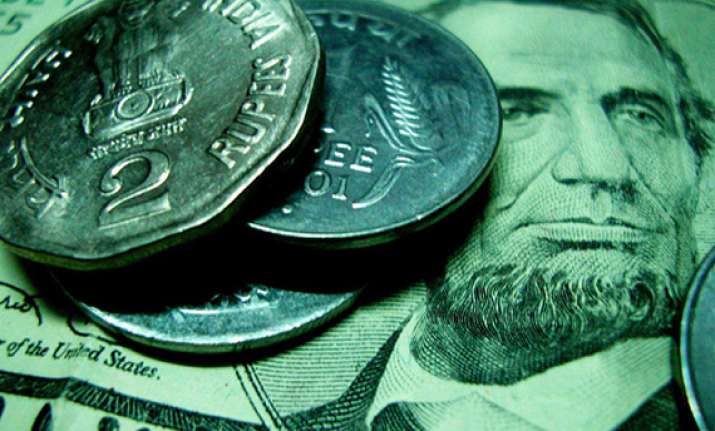 Mumbai, Dec 29: In a volatile trade, the rupee fell by 10 paise to close at nearly two-week low of 53.07/08 against the US currency following good dollar demand from importers amid weak local stocks.

Continued capital inflows, however, capped the downslide to certain level, a dealer said.

In a see-saw trade at the Interbank Foreign Exchange (Forex) market, the domestic unit opened sharply lower at 53.35/36 a dollar against last close of 52.97/98.

Later it went further down to the day's low of 53.51 on sluggish local stocks amid dollar buying by importers, mainly oil refiners, to meet their month-end requirements.

Strong dollar overseas too weighed on the rupee. The dollar index, a gauge of six major currencies, was up by about 0.15 per cent while New York crude was trading below USD 100 a barrel in European market today.

However, late dollar selling by exporters and some banks pulled the rupee up to a high of 52.98 before settling at 53.07/08.

Sustained capital inflows too helped the rupee recovery at the fag end. FIIs pumped in USD 181.36 million in straight four sessions since December 23.

The BSE benchmark Sensex today closed down by almost 184 points, or 1.17 per cent, extending losses for the straight third day.

Pramit Brahmbhatt, CEO, Alpari Financial Services (India) said, "Looking at the strong dollar one can expect rupee to trade near 54.00 levels and the trading range for the rupee will be 53.15 to 53.70 tomorrow," he added.

"The rupee closed slight lower, we could again speculate the RBI coming in the market to stabilise the rupee," Abhishek Goenka, CEO, India Forex Advisors said.

India and Japan have agreed to a $15 billion currency swap line, Japan's Prime Minister Yoshihiko Noda said on Wednesday, in a positive move for the troubled rupee, Goenka said.

The rupee premium for the forward dollar closed lower on fresh receivings by exporters.

The benchmark six-month forward dollar premium payable in May dropped to 143-145 paise from Wednesday's close of 150-152 paise and far-forward contracts maturing in November also end lower at 257-259 paise from 259-261 paise previously.

RBI fixed the reference rate for the US dollar at Rs 53.3585 and for the euro at Rs 68.9881.

The rupee recovered sharply against the pound sterling to end at Rs 81.63/65 from Wednesday's close of Rs 83.06/08 and also bounced back to Rs 68.38/40 per euro from Rs 69.23.25 previously.

It too edged up against the Japanese yen to Rs 68.17/19 per 100 yen from last close of Rs 68.22/24.