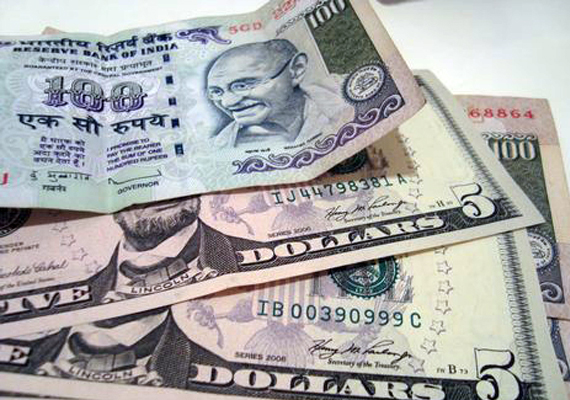 Mumbai, Mar 19: The rupee today lost five paise to close at 50.23/24 against the US dollar amid weakness in local equities and fresh dollar demand for the US currency from importers.
At the Interbank Foreign Exchange (Forex) market, the domestic unit resumed better at 50.15/16 a dollar and improved further to a high of 50.07 on dollar selling by exporters amid sustained capital inflows.
In the previous trading day, the local currency had closed at 50.18/19.
The rupee turned negative after local stocks showed sharp weakness, forex dealers said. There was also a sudden spurt in dollar demand from importers, mainly oil refiners, they added.
The rupee touched a low of 50.25 before concluding at 50.23/24.
Meanwhile, benchmark BSE Sensex closed 193 points  lower.
In New York market, the dollar turned lower against major currencies on last Friday. In London, it was trading nearly stable with downward bias against a basket of currencies while New York crude oil was trading below USD 108 a barrel in European market today.
Meanwhile, FIIs pumped in USD 182.59 milion last Friday, taking the total to over USD 1.6 billion in current month till March 16 and nearly USD 8.8 billion in 2012 so far.
Pramit Brahmbhatt, CEO, Alpari Financial Services (India) said, "The rupee shrugged of its initial gains which were mostly due to fall in US dollar index value during the day's session. The price pared the gains due to weaker Equities."
The rupee premium for the forward dollar improved further on sustained paying pressure from banks and corporates.
The benchmark six-month forward dollar premium payable in August settled up at 176-178 paise from last weekend's level of 170-1/2-172-1/2 paise and far-forward contracts maturing in February also closed strong at 311-313 paise from 301-303 paise previously.
The RBI has fixed the reference rate for the US dollar at 50.1245 and for euro at 66.0025.
The rupee reacted downwards to Rs 79.71/73 aginst the pound sterling from last Friday's close of Rs 78.96/98 and also fell back against the euro to Rs 66.14/16 from Rs 65.59/61.
It, too, dropped against the Japanese yen to Rs 60.42/44 per 100 yen from last close of Rs 59.84/86.