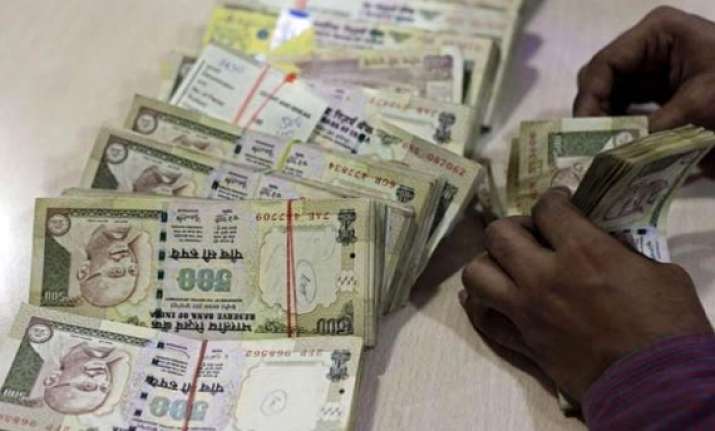 Mumbai, Dec 23: The rupee fell for the second day today depreciating by 24 paise to end at 52.96/97 against dollar on sustained demand for the US currency from importers and some banks amidst weakness in local equity markets.

At the Interbank Foreign Exchange (Forex) market, the local currency opened higher at Rs 52.69/70 per dollar and moved up further to Rs 52.64 from last closing level of Rs 52.72/73 per dollar.

Later, it dropped to a low of Rs 52.99 before settling at Rs 52.96/97, showing a loss of 24 paise or 0.46 per cent.

The rupee had fallen by 22 paise yesterday.

Sustained dollar demand from importers, mainly oil refiners and some banks amid weakness in local equity markets affected the rupee value against the dollar, a dealer said.
Abhishek Goenka, CEO, India Forex Advisors said that FIIs are still pulling out from local equities and inflows are  too drying up due to global worries.

"The rupee is trading stable past few days as per effect of the regulation imposed by RBI, but still we expect further weakness in rupee. We can see rupee going below 53 and plus levels in near term," he added.

Meanwhile, the BSE Sensex fell by 74.66 points or 0.47 per cent from its previous close.

The dollar edged lower in Asian trading hours in overseas markets today, although the movement was marginal and volumes reportedly thin, with the euro remaining under the USD 1.31 per euro-mark.

The rupee premium for the forward dollar declined further on sustained receivings by exporters.

The benchmark six-month forward dollar premium payable in May end down at 150-152 paise from Thursday's close of 161-163 paise and far-forward contracts maturing in November also settled sharply lower at 251-253 paise from 268-271 paise previously.

RBI fixed the reference rate for the US dollar at Rs 52.7220 and for the euro at Rs 68.9048.

The rupee moved down further against the pound sterling to close at Rs 82.99/83.00 from last close of Rs 82.75/77 and dropped further to end at Rs 69.22/24 per euro from Rs 68.86/88 previously.

It, also remained weak against the Japanese yen to finish at Rs 67.87/89 per 100 yen from last close of Rs 67.52/54.