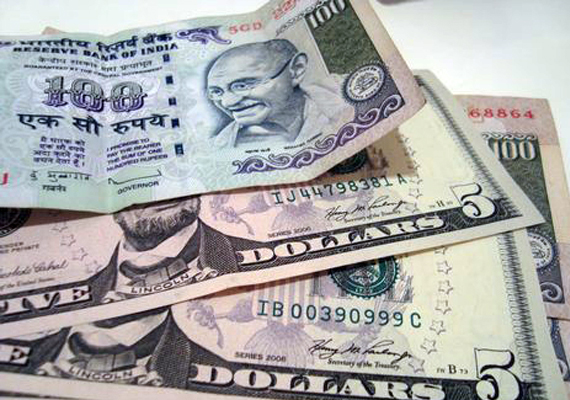 Mumbai, Mar 21: Extending losses for the third day in a row, the Indian rupee today dropped by 28 paise to close at a fresh two-month low of 50.67/68 against the dollar on sustained demand for the US currency from importers and banks.
At the Interbank Foreign Exchange market, after opening weak at 50.50/51 a dollar, the local currency immediately touched a low of 50.70. It recovered soon in line with a surge in domestic equities and touched a high of 50.41.

But a sudden demand for the dollar emerged, particularly from importers and foreign banks, pulling down the rupee which to closed 50.67/68, the lowest closing since January 17, 2012.

"The rupee pared gains in late morning trades as foreign banks turned sellers after the difference between domestic one-month forward dollar and comparable overseas dollar narrowed. The rupee is expected to regain its strength due to rising equity markets," Pramit Brahmbhatt, CEO, Alpari Financial Services (India) said.

Meanwhile, the BSE benchmark Sensex today closed sharply higher by 285.53 points or 1.65 per cent. Foreign institutional investors (FIIs) infused USD 38.92 million yesterday, according to SEBI data.

"The rupee did not react positively to the rise in local bourses emphasises the impact of global factors," Abhishek Goenka, CEO, India Forex Advisors said.

The dollar index of six major currencies was down by almost 0.1 per cent while New York crude oil was trading above USD 106 a barrel in European market today.

The rupee premium for the forward dollar settled steady to better on stray paying pressure from banks and corporates.

The benchmark six-month forward dollar premium payable in August closed at its yesterday's level of 177-179 paise while far-forward contracts maturing in February improved further to 318-320 paise from 315-317 paise previously.

The RBI has fixed the reference rate for the US dollar at 50.5935 and for euro at 67.1366.

The rupee dropped further against the pound sterling to end at 80.36/38 from overnight close of Rs 79.88/90 and also dipped against the euro to Rs 67.08/10 from Rs 66.52/54.

However, it fell back against the Japanese yen to Rs 60.31/33 per 100 yen from last close of Rs 60.17/19.