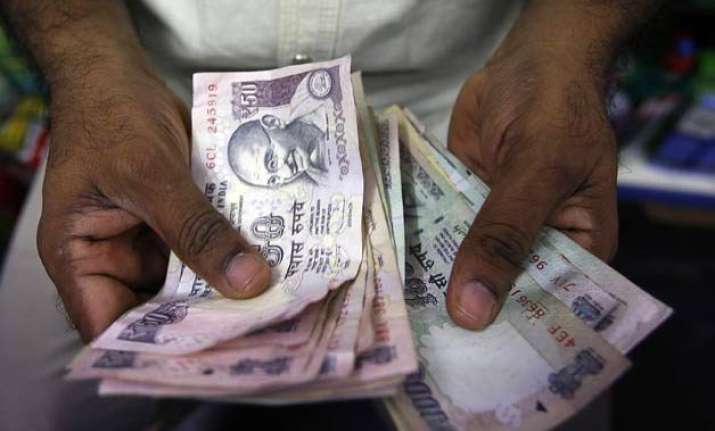 Mumbai:  The rupee recovered by 5 paise to close at 63.67 against the American currency on fag-end selling of dollars by banks and exporters.
The rupee commenced lower at 63.78 per dollar from last close of 63.72 at the Interbank Foreign Exchange market today and immediately touched a low of 63.81 on initial demand for the American currency from banks and importers amid downward correction in domestic equities.
However, it recovered in the afternoon to 63.54 on selling of dollars by banks and exporters in view of recovery in the equity market before ending at 63.67 per dollar, showing a gain of 5 paise.
It moved in a range of 63.54 and 63.81 per dollar during the day.
Yesterday, the rupee had dropped by 21 paise or 0.33 per cent.
The dollar index was up 0.76 per cent against a basket of six major global rivals in Asia today.
In the New York market yesterday, the dollar traded higher, starting on a high note after falling last week against the currencies of every other industrialised nation.
Meanwhile, crude Oil prices were mixed in Asia today as a global glut and soft demand overshadowed the impact of geopolitical tensions in the crude-rich Middle East, analysts said.
US benchmark West Texas Intermediate (WTI) for June delivery gained six cents to USD 59.49 while Brent crude for July eased 14 cents to USD 66.13 in late-morning trade.
The benchmark BSE Sensex ended lower by 41.77 points of 0.15 per cent today. Foreign Portfolio Investors (FPIs) sold shares worth Rs 202.12 crore yesterday, as per provisional data.
Pramit Brahmbhatt, Veracity Group CEO, said, "The rupee for the day ended near yesterday's close slightly on a strong note at 63.67." Exporters were seen selling dollar which helped the rupee to trade firm against the strong dollar.  
The trading range for the Spot USD/INR pair is expected to be within 63.20 to 64.00.
In the forward market, the premium moved down further on sustained receivings by exporters.
The benchmark six-month premium payable in October eased to 207-209 paise from 208.5-210.5 paise yesterday while forward contracts maturing in April 2016 ended steady at 430-432 paise.
The Reserve Bank of India fixed the reference rate for dollar at 63.6868 and for the euro at 71.9024.  The rupee recovered against the pound sterling to 98.61 from 99.90 yesterday and also bounced back to 71.21 per euro from 72.63.
The local currency also quoted higher against the the Japanese currency at 53.00 per 100 yen from 53.26.