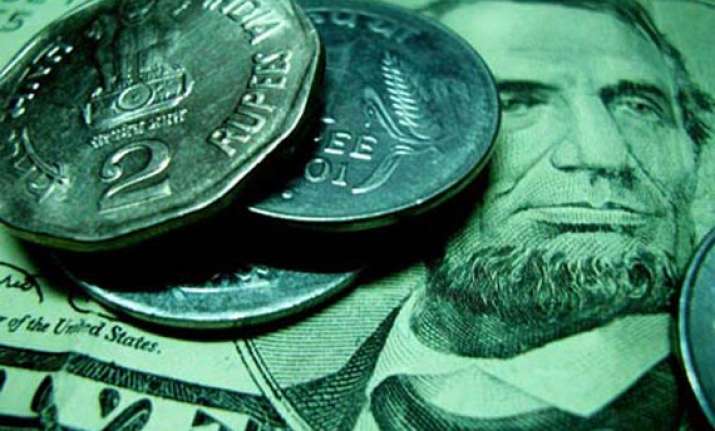 Mumbai, Dec 13: The rupee today breached the 53-level for the first time in its history against the dollar on sustained capital outlfows amid compounding woes of Indian economy.

The local currency resumed lower at 53.10/11 per dollar at the Interbank Foreign Exchange (Forex) market and immediately tumbled to an all-time low of Rs 53.51.

It partially recovered to settle the day at 53.23/24 per dollar, a sharp loss of 39 paise from its last close.

Yesterday, the local unit had plunged by 81 paise on signs of capital outlfows after the news of industrial output declining 5.1 per cent in October came out.

Foreign exchange dealers said the local currency was weighed down on the dollar gaining strength in the overseas market, particularly against euro, amid the lingering eurozone crisis.

The US dollar gained against major currencies in New York market yesterday, while the euro fell to its lowest level in two weeks amid renewed concerns that European leaders aren't doing enough to contain the region's sovereign-debt crisis.

They added that investors also remained deeply worried about India's growth story. Economic slowdown, rising fiscal deficit and widening current account deficit (CAD) have dented investor confidence, they added.

"The rupee's fall today is driven by the strengthening of dollar across global markets and continuous weakening of the euro. The Indian currency is going to witness sustained pressure in the coming days," Ramesh Krishnan, head of treasury operations, Dhanlakshmi Bank said.

The only positive, which can uplift the rupee is if the Reserve Bank does not take any rate action in its mid-quarterly monetary policy review on December 16, he added.

Meanwhile, the stock markets surged with the BSE Sensex moving up 132 points to regain crucial 16,000-level.

The rupee premium for the forward dollar recovered on fresh paying pressure from banks and corporates.

The benchmark six-month forward dollar premium payable in May rose to 136-138 paise from Monday's level of 131-132 paise and far-forward contracts maturing in November also ended higher to 222-224 paise from 211-213 paise previously.

The Reserve Bank fixed the reference rate for the US dollar at Rs 53.4030 and for the euro at Rs 70.4435.

The rupee declined further against the pound sterling to end at Rs 83.07/09 from Monday's level of 82.47/49 and also remained weak at Rs 70.36/38 per euro from 70.06/08 previously.

It too dropped further against the Japanese yen to Rs 68.47/49 per 100 yen from last close of Rs 67.90/92.