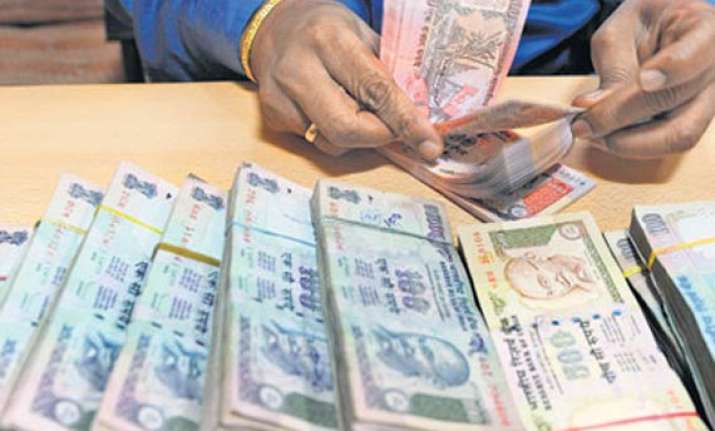 Mumbai, Nov 21: The rupee plunged to nearly 33-month low of sub-52 level after losing a whopping 81 paise against the US currency on sustained dollar demand amid weak trends in stock markets and deepening euro-debt crisis.

Among other things, forex dealers attributed the steep fall in rupee to the finance ministry's comments that Reserve Bank's "limited" ability to arrest the fall.

In fairly active trade at the Interbank Foreign Exchange (Forex) market, the rupee opened weak at 51.43/44 and breached 52-mark to settle at 52.15/16, a steep fall of 1.58 per cent.  In straight six sessions, it has tumbled by 203 paise or 4.05 per cent.

Standard Chartered Bank Treasury Head Anatha Narayan said, "After Friday's announcement of increasing FII limit in bonds, there were some statements from authorities that have been taken negatively by markets. Also, a slide in stock markets and hedging for dollar exposure added to the trend."

Meanwhile, the Reserve Bank is believed to have asked public sector banks to buy rupee to provide some stability but the development could not be ascertained.

Narayan said it looked like that RBI has intervened.  "Though it is difficult to ascertain what is the extent of intervention it seems the slide has been restricted due to the intervention."

Predicting that rupee decline to continue for a while, dealers said the local currency may fall its historic low of 52.54 and may slide to 54-level in the next few months.

"I think the rupee  will breach the historical low of Rs 52.54 to a dollar either tomorrow or day after and see it sliding to Rs 54 in the next few months. Rupee depreciation will continue for a while," said Bitupan Majumdar, Lead, Forex Derivatives Analyst at JRG Wealth Management.

Meanwhile in New Delhi Economic Affairs Secretary said, "The rupee cannot slide beyond a point. Ability to intervene in the forex markets is also limited."

The BSE benchmark Sensex today plunged by over 425 points or 2.60  per cent to end below 16K-mark after a month at 15,946.10 on lingering euro-zone debt crisis.

Foreign Institutional Investors (FIIs) have pulled out USD 344.16 million in the last four sessions since November 15.

Dealers also said the rupee was weighed down by continued dollar demand from importers, mainly oil refiners, for their month-end requirements amid expectations of further rise in dollar overseas on lingering European debt worries.

The dollar index was up by nearly 0.5 per cent against a basket of currencies while New York crude oil was trading above USd 96 a barrel in European market today.

"The local unit performed worst among all Asian and developing market currencies. Dollar has gained against the rupee mainly on account of its gaining strength globally with the US deficit cut accord getting a setback in the US Congress in addition to persistent weakness in the Indian rupee," Abhishek Goenka, CEO, India Forex Advisors said.

The rupee premium for the forward dollar also slumped further on sustained receivings by exporters.

The benchmark six-month forward dollar premium payable in April dipped to 73-76 paise from 91-93 paise last weekend and far-forward contracts maturing in October also ended sharply lower at 129-132 paise from 157-159 paise previously.

The RBI fixed the reference rate for the US dollar at Rs 51.7165 and for the euro at Rs 69.8883.

The rupee remained weak against the pound sterling to end at Rs 81.59/61 from Friday's level of Rs 81.32/34 and dropped further to Rs 70.08/10 per euro from Rs 69.45/47 previously.

It, too stumbled against the Japanese yen to Rs 67.82/84 per 100 yen from last close of Rs 66.91/93.