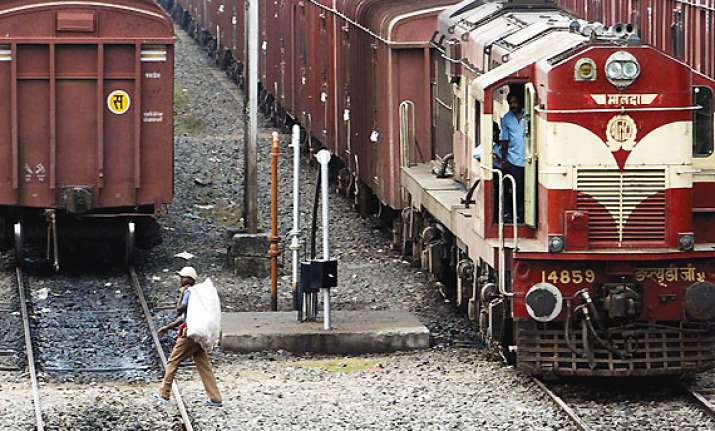 New Delhi, Mar 14: The Railways is expecting growth of over 30 per cent in its earnings from freight in the next fiscal to Rs 89,339 crore on higher loading of goods and commodities.

Railway Minister Dinesh Trivedi, who spared goods movement from increase in freight rates in his maiden Budget, projected 1,025 million tonnes (MT) in the next fiscal.

"The railways is targeting to carry 1,025 MT of revenue earning originating traffic during 2012-13, which is 55 MT more than the revised estimate target of 970 MT," he said.

He added that "the freight earnings target has been kept at Rs 89,339 crore, indicating a growth of 30.2 per cent over the current year's revised target."

Emphasising the fact that revenues of the Railways have been dependent on freight traffic, Trivedi said, "This model of heavy cross subsidy is not sustainable over a long period. If this continues, then I am afraid railways may lose freight traffic to road."

He further said that the Railways has scaled down its freight loading target for the current fiscal to 970 MT from earlier estimated target of 993 MT due to ban on iron ore exports by Karnataka and Odisha state governments. Iron ore is the second largest contributor after coal in Railways' freight revenues.

However, the Railway Minister said that the earnings targets for the current fiscal has been kept at the same level in revised estimates due to increase in freight rates, made on March 06.

"The earnings target (Rs 68,620 crore) for goods has been retained in view of freight rationalization implemented from March 06, 2012. The rationalization seeks to better align the freight tariff with cost of rendering service and ease the pressure on railway finances," he said.

The last week's increase in freight rates was across the board and varied between 15 and 35 per cent for different commodities. The rate hike is expected to bring revenues of Rs 15,000 crore to Rs 20,000 crore in the next fiscal for the Railways.

Barring iron ore meant for exports, the rates were increased for almost all commodities including food grains, cement, coal, petroleum products and fertiliser.

For food grains and fertiliser, the hike was between 20 per cent to 35 per cent, while for the coal and cement, it was between 18 to 24 per cent.

Freight on iron ore for domestic consumption was increased by 20 per cent, while the rates were reduced by 16 per cent on its exports.

According to the official figures, Indian Railways has carried 875.60 MT of freight between April 2011 and February 2012, registering a meager growth of 5.16 per cent over the 832.66 MT carried during the corresponding period last year.