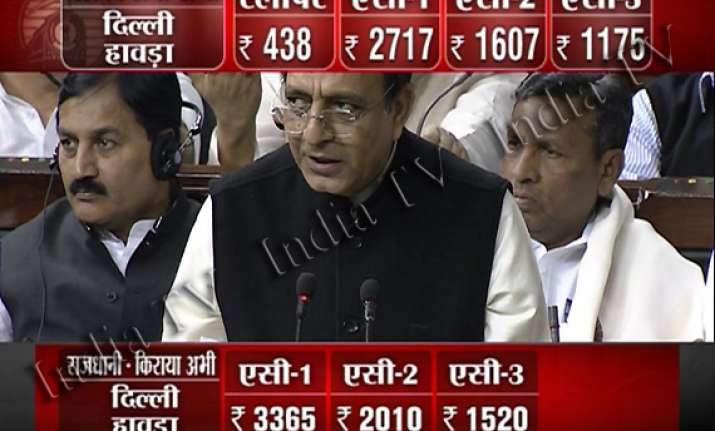 New Delhi, March 14: The Railways propose  to set up an independent Railway Safety Authority as a statutory regulatory body as recommended by Kakodkar Committee.

Announcing this in his Rail Budget speech in Parliament today, Railway Minister Dinesh Trivedi said, the function of the authority would be worked out in greater details in line with international practices in the best  interest of passenger safety.

He said since research and development activities are central to any tangible results in the area of safety enhancement, he also proposed to set up a Railway Research and Development Council at the apex level to spearhead such efforts.

Trivedi said, his entire emphasis is going to be on strengthening Safety.

Admitting that he was not at all satisfied with the safety standard at the present moment, the Minister said the commitment made in 2001 to reduce accidents per million train km from 0.55 to 0.17 has been achieved. He said, however the target should be zero death.

The Minister said that more than 40 per cent  of the consequential train accidents, involving 60 to 70 per cent of the total casualties occur at unmanned railway crossings.

To fast track elimination of level crossings in the next five years, the railways have decided to set up a Special Purpose Vehicle (SPV) named Railroad Grade Separation Corporation of India.

Trivedi said, in order to achieve even higher safety standards, he has decided to set up a committee to examine the current standards of safety on Indian Railways and to suggest suitable benchmarks and safety protocols.

He said, considering the zero tolerance approach in the areas of nuclear science and aerospace, he feels that the best people to guide railways in determining appropriate safety protocols should be from these two fields.

The Minister also announced that a New Board Member (Safety/Research) to be inducted in the Railway Board.

He said, three 'Safety Villages' to be set up at Bengaluru, Kharagpur and Lucknow for skill development for disaster management.