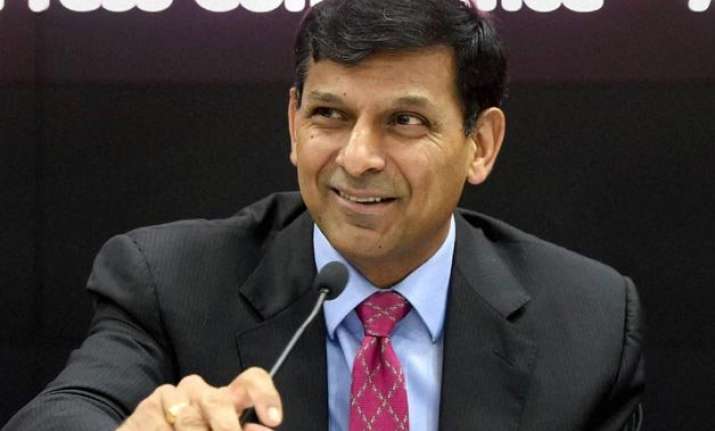 Mumbai: In a conciliatory move, RBI Governor Raghuram Rajan today seemed willing to concede space on the vexed issue of veto power for the central bank chief and said a "broad consensus" has been reached with the government on contours of the proposed panel for deciding interest rates.
Ever since the government released a revised draft of the Indian Financial Code (IFC) last month, suggesting a 7-member MPC with a majority of government-appointed members and doing away with the veto power to the RBI chief, there has been a raging controversy with concerns being raised on the RBI's autonomy getting compromised.
It has been proposed that the panel would take decisions by a majority vote. Of the seven members, four would be government nominees and the rest from RBI.
"RBI believes that institutionalising the process of monetary policy formulation is vital, given that the government has given RBI a clear inflation objective," Rajan
said.
"If we continue to retain the veto (for Governor), it does not change the situation and maintains the status quo," Rajan said, referring to the current practice where RBI chief can overrule the advice of a Technical Advisory Committee.
He said RBI is a votary of taking decisions away from the Governor to an MPC and also listed "three virtues" such a panel can bring in -- improvement in decision-making due to a cross-section of views, moving away from "internal and external pressures" an individual faces in taking decisions, and continuity in policymaking.
"A committee can represent different viewpoints and study shows that its decisions are typically better than an individual.
"Second, spreading the responsibility of the decision can reduce internal and external pressure that falls on an individual. Third, a committee will ensure broad monetary policy continuity when any single member, including Governor, changes," he said.
Top Finance Ministry functionaries initially sought to disown the proposed move to strip RBI chief of the veto power, saying it was based on the suggestions of the Financial Sector Legislative Reforms Commission (FSLRC).
However, the FSLRC Chairman and a member later clarified they did not suggest any such move, prompting the top Ministry officials to state that the proposal was based on suggestions on FSLRC proposals.
The Governor, however, batted strongly for RBI's autonomy and said the government has never interfered with the central bank's call even though the statutes give it the power.
"I think there has been a healthy respect between the government and the central bank. And the central bank ultimately decides what the course of the monetary policy will be," Rajan said, while clarifying that the central bank seeks advice from the government.